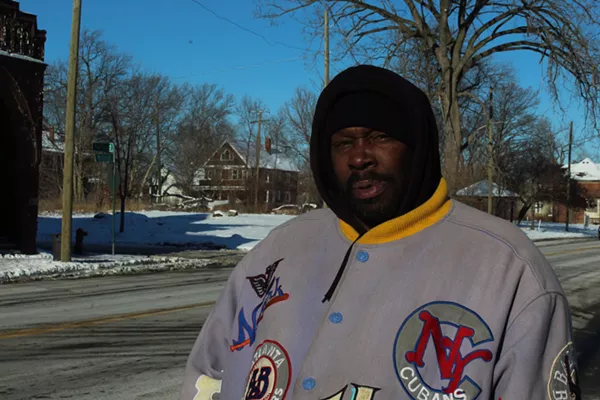 As metro Detroiters opt to stay in their homes with the heat cranked amid a cold snap that has produced temperatures as low as ten degrees below zero, some of the region's homeless are struggling to survive on the streets.
Lawrence Cole, the self-described "lone wolf" of Detroit's Mt. Elliot Street, sleeps under coats inside a vacant house at night. He says he prefers the solitude to the crowds at shelters and the several warming centers the city opened last week. But he can't stay squating under a pile of layers all day — he has to go out and see that his other basic needs are met. As he does so, he says looks for heat in any way he can.
"I do what I do," Cole says. "I see a friend with a car. I say 'hey, let me get warm,' then I'll go hustle and try to get me something to eat."
Cole is not the only one steering clear of Detroit's shelter system, which some homeless have criticized for what they say are poor conditions and strict rules. For some in the area, their salvation lies with Resurrection House, a warm home provided by the Southern Christian Leadership Conference.
There's very little space to move around inside Resurrection House. A little path that leads from the front door to the kitchen is crowded with boxes of blankets, coats, and food for the homeless. Faded photos and aged decor line the walls while trash bags of clothes sit on decade-old furniture.
But the air is warm, the lights are on and four rooms house those with nowhere else to go.
Resurrection House is part of a larger initiative started by the Southern Christian Leadership Conference to provide alternative housing to Detroit's homeless who don't want to stay at the warming shelters throughout the city. While the shelters ask those that stay to report back or vacate the premise at different times, Resurrection House enforces fewer rules, which is just how the tenants like it.
"They don't want to be treated like children, like babies," Reverend Aaron McCarthy says. "You give them their freedom as adults and they do just fine."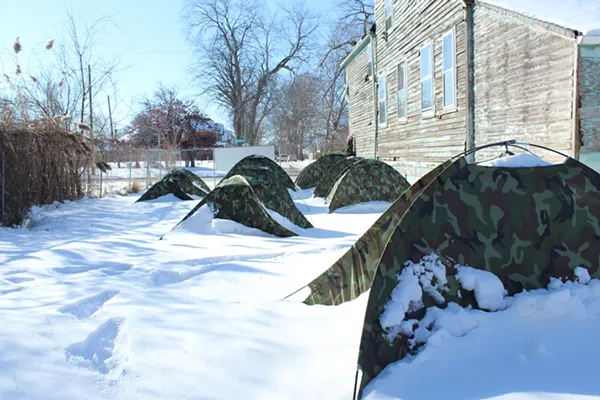 McCarthy is the caretaker of Resurrection City, the community that accommodates the homeless in the area. Before Resurrection House, there was Tent City — a group of camouflage single-person shelters that were set up mid-September last year. Originally meant as a five-day accommodation for the homeless, they were still being used until the cold really set in. After that, Resurrection House became Plan B for the homeless.
McCarthy describes the people that stay at Resurrection House as some of the nicest ever. They don't fight or argue and there hasn't been any violence. They don't do drugs in the house and even bring back food for everybody to eat.
"They have become extended families," he says. "They go look after each other."
Arthur Robinson lost his car last year, and has been with Resurrection City since it was erected, but this is his first brush with is homelessness.
"It feels so lonesome," Robinson says. That's how I feel. Not having my place, I feel lonesome."
While Robinson has friends and family in the area he visits, he considers himself a loner, much like Cole.
"I do what I gotta do," he says. "I'm a survivor. It's cold but something beats nothing."
Cole has been around the area since late November. And even though the temperatures will push above freezing later next week, he knows the winter is far from over.