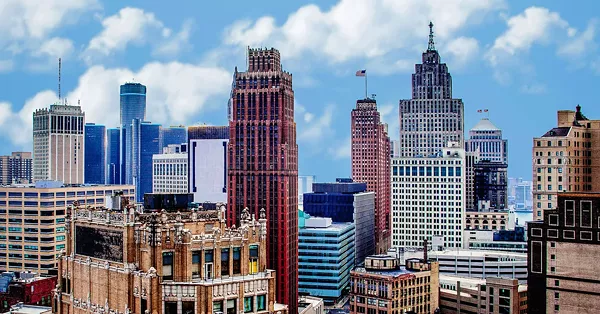 The jig is just about up for tenants of Detroit's booming downtown and Midtown apartments who use suburban family members' or friends' addresses to avoid paying city taxes.
A
previously reported crackdown
on tax-evaders has since expanded to more than 50 properties in downtown and Midtown, according to
a new report
from the
Free Press
. Reportedly, a new regulation is being considered that would require landlords to provide the city with tenant information so the city can enforce tax collection. The regulation would focus on tenants with rents of $750 or more, such as those living in buildings like New Cadillac Square Apartments and Broderick Tower.
The crackdown, which began in 2015, found that only 15 percent of those living or working at 33 properties filed city tax returns for 2014. At four of the properties, not a single person filed income tax returns that year.
Detroit is one of about two dozen cities across the state that has its own income tax. Residents are required to pay a rate of 2.4 percent, while non-resident employees are to pay 1.2 percent.
Council President Pro Tem Mary Sheffield, whose district includes downtown, expressed concern about privacy breaches, but Wayne State University law professor John Mogk told the
Free Press
that though the regulation would be "unusual," it "is within the power of the city to request as a matter of law."
Currently, tax evaders can face up to a $500 fine or 90 days in jail.
Stay on top of Detroit news and views. Sign up for our weekly issue newsletter delivered each Wednesday.