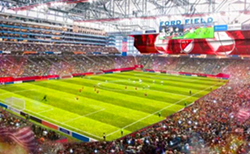 Detroit's billionaire professional sports team owners are dribbling toward the goal of creating a Major League Soccer team.
MLS has named Detroit one of four finalist cities for an expansion team. The bid is being put forward by Dan Gilbert, Tom Gores, and the Ford family, who own the Cleveland Cavaliers, Detroit Pistons, and Detroit Lions, respectively.
Sacramento, Cincinnati, and Nashville are also finalists. Bid committees from each of the cities will make their final pitches to MLS on Dec. 6.
The four ownership groups were among 12 markets that submitted formal bids in January for a total of four additional slots as part of the league's expansion to 28 teams. Two slots are due to be granted by the end of this year, while another two will be granted by 2020. The cities that were knocked out this year will still be in the running for those second two spots. They include Charlotte, Indianapolis, Phoenix, Raleigh/Durham, St. Louis, San Antonio, San Diego, and Tampa/St. Petersburg.
Detroit's bid would have the team playing at Ford Field. Initially, Gilbert and Gores said they would create an MLS-specific stadium at the site of Wayne County's fail jail in downtown Detroit. The MLS has said it would prefer expansion cities to have
soccer-specific stadiums
.
Nashville has reportedly
approved
a public-private deal for a $275 million stadium. Cincinnati officials will reportedly soon vote on whether to approve
plans for a soccer stadium
by that city's bid committee. Sacramento has already started
constructing a stadium
.
Gilbert's Rock Ventures will still own the land where Detroit's first-proposed staidum was to sit. The company has indicated it plans to build a mixed-use development there with no stadium, should county officials approve a complicated trade for the land.