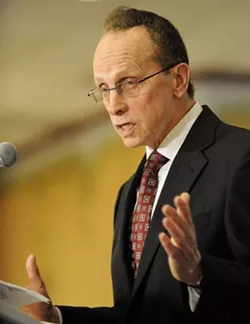 Last week, Warren Mayor Jim Fouts
cryptically teased
on social media that a "major environmental scandal" was brewing in Macomb County, refusing to share details except to say that it could be a "mini version of what happened in Flint."
Since then, the mayor has further elaborated on the scandal on his Facebook page, which involves Sterling Heights' Freedom Hill County Park, a former landfill that was closed in the 1960s.
What Fouts was alluding to was a recent environmental evaluation that revealed dirt used to level the site's parking lot and create a berm (a dirt sound barrier) constructed within the past year and a half was giving off spiked methane gas readings. In a follow up post, Fouts wrote the berm was created without a permit, and wondered where the dirt came from. He also wrote that the former landfill sustained damage to its methane vents and trees meant to absorb leaking leachate.
On Monday, County Chief Deputy Executive Mark Deldin admitted to the
Macomb Daily
that a state permit should have been secured before a contractor was allowed to dump soil the park, which came from a contractor called Dan's Excavating. Deldin says Dan's Excavating provided the dirt and did the work for the parking lot and berm for free to avoid paying a fee to dispose the soil at a landfill.
"We have found out since all of this came out, we thought the contractor was following the proper process," Deldin said, acknowledging that though permits were obtained, they did not get one from MDEQ. "If we had to do it over now, we would know who had jurisdiction over the property."
Officials say the soil pushed existing leachate out of the landfill, causing the spiked methane readings. They say the leachate has not entered the Red Run Drain, which feeds into the Clinton River and Lake St. Clair, and maintain the scandal is no danger to the public. Methane is not poisonous, but can become explosive in high concentrations.
Still, people are upset at Fouts for invoking the catastrophic lead water poisoning in Flint.
"For the mayor to go out and make an allegation that this is a public health hazard is absolutely factually baseless," Hackel told
The Detroit News
. "This is everything to try to incite the public."
County officials maintain the scandal is no danger to the public. Nevertheless, on Tuesday Fouts was back on Facebook to claim victory:
"I'm glad I was able to force the truth to come out despite the heat that I took," he wrote. Officials estimate the cost to repair the site will be about $500,000, but Deldin says taxpayers won't be the ones to pay for it.
Here's Fouts: