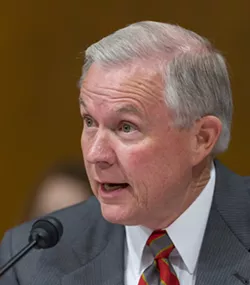 It looks like Michigan's roughly 200,000 medical marijuana users will be able to continue to smoke without fear of the feds, for now.
A bipartisan omnibus spending bill passed by the U.S. House on Wednesday stops Attorney General Jeff Sessions and the Justice Department from using any funds to fight medical marijuana use in most states. The move comes after Sessions signaled that he wanted to resurrect the department's efforts to go after all drugs including pot.
The language protecting states from federal meddling when it comes to medical marijuana has reportedly been a part of every budget since 2014. It reads as follows:
"None of the funds made available in this Act to the Department of Justice may be used, with respect to any of the States of Alabama, Alaska, Arkansas, Arizona, California, Colorado, Connecticut, Delaware, Florida, Georgia, Hawaii, Illinois, Iowa, Kentucky, Louisiana, Maine, Maryland, Massachusetts, Michigan, Minnesota, Mississippi, Missouri, Montana, Nevada, New Hampshire, New Jersey, New Mexico, New York, North Carolina, Ohio, Oklahoma, Oregon, Pennsylvania, Rhode Island, South Carolina, Tennessee, Texas, Utah, Vermont, Virginia, Washington, West Virginia, Wisconsin, and Wyoming, or with respect to the District of Columbia, Guam, or Puerto Rico, to prevent any of them from implementing their own laws that authorize the use, distribution, possession, or cultivation of medical marijuana."
While the list includes Michigan and most states, it curiously omits six. Idaho, Indiana, Kansas, Nebraska, North Dakota, and South Dakota are not on the list of protected places. North Dakota and Indiana have medical marijuana laws.
Still, the extension of the protections is a win for the medical marijuana community, which had feared Sessions would go after marijuana laws.
"The decision to reauthorize this language illustrates both compassion and common sense when it comes to marijuana policy," Justin Strekal of the National Organization for the Reform of Marijuana Laws said in a statement.
On March 15, Sessions said he wanted to fight violent crime by targeting drug use, and "preventing people from ever taking drugs in the first place."
"I reject the idea that America will be a better place if marijuana is sold in every corner store," the attorney general said in remarks in Richmond, Virginia. "And I am astonished to hear people suggest that we can solve our heroin crisis by legalizing marijuana – so people can trade one life-wrecking dependency for another that's only slightly less awful. Our nation needs to say clearly once again that using drugs will destroy your life."
If the omnibus bill passes as expected, protections for the medical marijuana programs in most states will be in effect through Sept. 30.