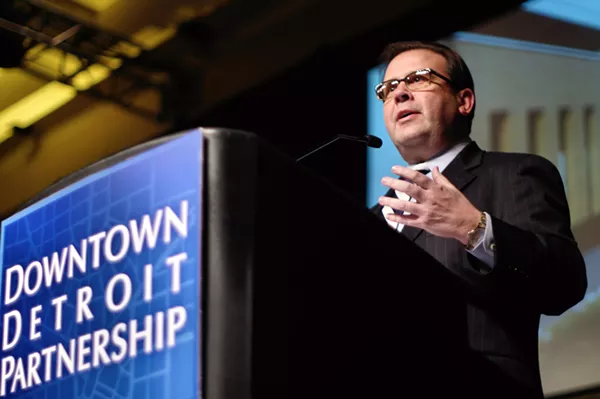 Blue Cross Blue Shield CEO Daniel Loepp is under fire after it was revealed that the leader of Michigan's largest health insurance company earned $19.2 million last year — more than most for-profit executives in the state.
The figure drew attention from Vermont Senator and U.S. 2020 presidential candidate Bernie Sanders, who has campaigned on single-payer government-run healthcare.
"The CEO of Michigan Anthem Blue Cross Blue Shield was paid $19 million in 2018, a 43 percent increase in pay from his $13 million in 2017, while 790,000 Michigan residents go without health care and many more can't afford to use the insurance they have," Sanders wrote
on Facebook
. "We must pass a single-payer health care system so ordinary Americans won't have to forgo getting the care they need because they can't afford it."
Loepp's compensation, which included a base salary of $1.5 million and a $16.2 million bonus, is exceptional nationwide. A study by healthcare information firm AIS Health ranked Loepp as the seventh highest-paid health insurance exec in the country, and ranked him first among all Blue Cross Blue Shield companies,
The Detroit Free Press
reports.
As CEO, a role that he has held since 2006, Loepp slashed administrative expenses at the company by $360 million over the past three years, cutting dozens of jobs.
Of Michigan executives, only General Motor's Marry Barra earned more than Loepp with a salary and bonuses totaling $21.9 million in 2017. Meanwhile, GM has announced
massive cuts to its workforce
, totaling more than 14,000 employees. The Big Three automakers are far larger companies than Blue Cross.
Blue Cross Blue Shield defended Loepp's pay, citing performance. "We are keeping health care affordable to the best of our ability here in Michigan," spokesman Andy Hetzel told
The Detroit Free Press
. "We think he earns the money that he makes."
Loepp, 61, drew criticism after Michigan Gov. Gretchen Whitmer appointed the CEO as an "honorary co-chair" on her gubernatorial transition team earlier this year. Whitmer's father had previously served as the head of the company, and she had
credited
Loepp with suggesting she enter politics in the first place. Blue Cross also
donated more money
to Whitmer than any other gubernatorial candidate in the past decade.
Unlike her 2018 Democratic gubernatorial opponents, Whitmer refused to campaign on single-payer healthcare,
telling Metro Times
she thought single-payer wasn't feasible.
Sanders won Michigan's 2016 presidential primary, beating Hilary Clinton with 49.68 percent of the vote.
Stay on top of Detroit news and views. Sign up for our weekly issue newsletter delivered each Wednesday.