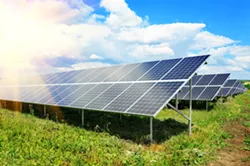 Sounds fun, right? Well, despite seeming quite recreational a solar park isn't a place to frolic in the sun. Instead, it's a vacant, 10-acre piece of Detroit-owned property where DTE Energy is going to set up millions of dollars worth of solar panels to generate clean energy to be used by city residents.
The former site of O'Shea Park will generate $1 million in tax revenue for the city over the course of the 20-year lease Detroit and DTE Energy made. The solar power harvested from the park will produce enough energy for 450 homes, according to a PR Newswire story.
The park, once completed, will be one the largest of its kind in the country. It's a sister project to an array under development in Ypslanti, one at the GM Warren Transmission plant, and two large-scale projects in Lapeer, one of which will be the largest company-owned solar array east of the Mississippi River upon completion. By 2017 31 DTE solar arrays will be in operation and capable of generating enough clean power for 14,000 homes. All of these larger projects are part of a wider commitment DTE made to enliven the metro area. Another component of the project will provide educational opportunities to students learning or renewable energy and sustainability.
Detroit City Council gave the project the green light at the end of March and construction is set to begin in May.