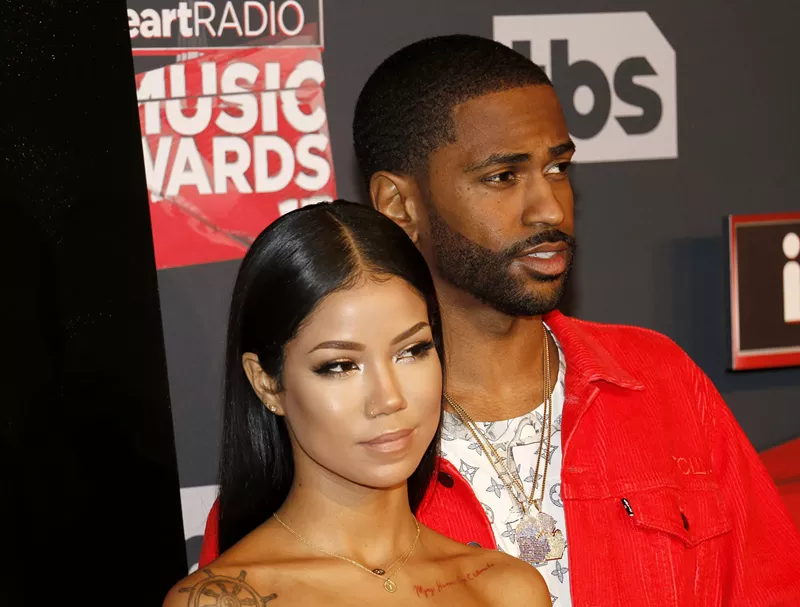 As of late, Detroit rapper and entrepreneur Big Sean has become a lyrical muse for some of his famous ex-girlfriends.
First, superstar Ariana Grande namedrops Sean among her exes Ricky Alvarez, Pete Davidson, and the late Mac Miller in last year's
"Thank U, Next"
(Thought' I'd end up with Sean/ But he wasn't a match.) Now, songwriter Jhené Aiko has taken aim with her latest freestyle, "Triggered" — well, sort of.
The 31-year-old singer released her first song, and the latest from her forthcoming album of freestyles since confirming she and the
"Blessings"
rapper had split last year. At that time, she also
covered up a very visible tattoo of Big Sean's face
with a trippy galactic scene spanning her back and shoulders.
"Triggered," which was released Tuesday with sparse accompanying visuals, has all the makings of a whirlwind diss track (
and
an Ariana Grande song, as it sounds
pretty
similar to "Thank U, Next" with hints of Eminem's flip-flopping ballad,
"Love the Way You Lie"
).
There's fire ("You are my enemy, you are no friend of mind, muhfucker/ You muhfuckin' right/ You muhfuckin' right, I'm bitter"), and there's fucking ("Wanna fuck you right now/ I just turned the lights out now/ Damn, I'm 'bout to burn this bitch down/ I think I need to lie down").
Aiko took to Twitter to explain that "Triggered" is not a diss, but rather "a moment of talking shit out of frustration and passion." She adds that it was a moment of feeling
"lost and weak" and that she is in control of her feelings.
"triggered" was a moment. a moment that for me has passed. it is new to you because ur just now hearing it, but for me... it's something i moved on from the moment i expressed it.

— Chilombo (@JheneAiko) May 8, 2019
The two began dating in 2016 and
faced on-again, off-again turbulence when Sean allegedly got cozy with a former Pussycat Doll
at an Oscar afterparty last year. Shortly after, he postponed (and then canceled) his 2018 tour plans to focus in the studio.
I've been in a deep creative space & decided I need to stay focused in the studio - so unfortunately, I am postponing my upcoming tour. I learned in life u have to follow your intuition, I hope you do the same. Thank you for your continued love & support It means the world to me.

— Sean Don (@BigSean) February 26, 2018
Last month,
Aiko dropped a message on Sean's Instagram
, referencing lyrics from her "Triggered" freestyle.
"You are so special. To me. To the world. While we're both still on this planet I just want to say I love you beyond measure. Even tho I get big mad and u trigger the fuck out of me. U make me feel. And I appreciate that. Because I thought I was dead inside."
She added that she would always be on his side.
"I love you from this life to the next and all the other lives we've known each other before. Imma always talk my shit. But Imma always have ur back."
Watch the "Triggered" video below.

Stay on top of Detroit news and views. Sign up for our weekly issue newsletter delivered each Wednesday.