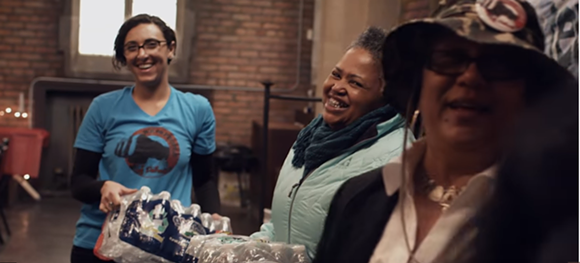 The KIND fruit-and-nut snack food company has partnered with the feel-good video producers at
Soul Pancake
to produce a clip on
Monica Lewis-Patrick
. Thankfully, there is not too terribly much ruin pr0n employed in the clip. And in it, Lewis-Patrick is as genial and awesome as ever.
As we reported the other week
, the KIND company's own non-profit arm awarded Lewis-Patrick a gift of $100,000 in recognition of all her community activism, which she can use however she sees fit.
They wrote that her "sense of justice and belief in her own ability to enact change has united a community in the fight for water rights. It all started after she learned that the City of Detroit had cut off the water of an apartment building occupied by mothers and senior citizens. She co-founded We the People of Detroit, a grassroots organization that gives low-income families access to clean water; provides education on water issues; conducts research to raise awareness; and mobilizes people to take action."
We could not agree more.