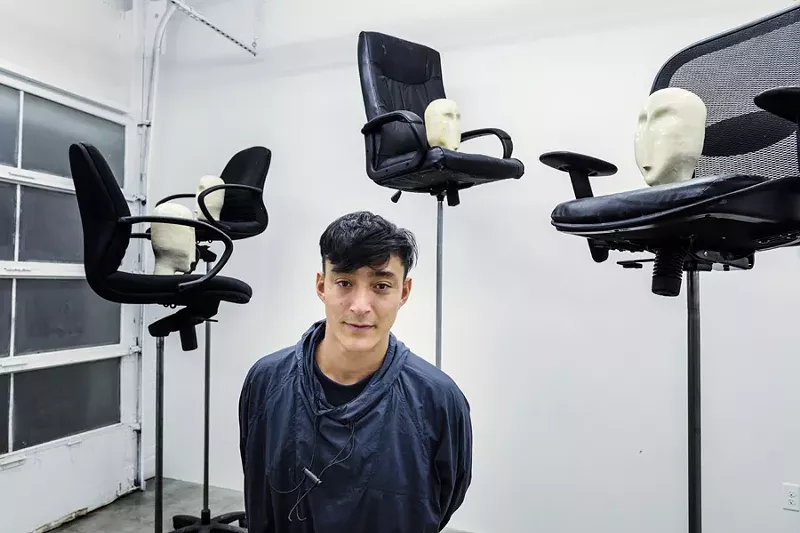 Zach Saginaw has been making music and performing music as the solo artist Shigeto on record label Ghostly International since 2010. He and Ghostly share a hometown in Ann Arbor, and Shigeto has lived in Europe and New York City before returning to Detroit in 2013. Since then he's become a fixture of the Detroit music scene — he's part of the Monday Is the New Monday (MISTNM) crew that has a residency at Motor City Wine. The night itself is the inspiration for his new Ghostly album, The New Monday — a love letter to the Detroit music scene drawing from it's techno, jazz, R&B, and hip-hop heritage.
This year has been a whirlwind year for Shigeto. He's started a recording and ceramic studio space in a converted garage in Hamtramck (Portage Garage) and an accompanying label, Portage Garage Sounds, with his brother Ben Saginaw and Vinnie Massimino. This August his group ZGTO featuring Bruiser Brigade member ZelooperZ dropped the spooky, minimal hip-hop album A Piece of the Geto, and this month saw the release of his new album The New Monday.
Metro Times talked to a jet-lagged Shigeto fresh back from Europe about his upcoming show at El Club on Oct. 21.
Metro Times: How does the album title tie into the Motor City Wine MISTNM?
Shigeto: Over the last four years I've kind of been trying to find a next direction as an artist and as a person. There was a long period where I was at a slump creatively and spiritually.
Two years ago my brother had told me that he started a weekly with a group of friends of mine. It was every Monday at Motor City Wine, and it was called Monday Is the New Monday. It was just this thing that was fun and I immediately wanted to be a part of that.
Being at that venue every week — hearing new music, playing music, sharing music, and having it be outside of the pressure of being a solo performer — created a new energy for me. It was an understanding of the solidarity that a dance floor brings, rather than being this solo entity that is living a very self-serving, kind of narcissistic existence. It started showing me about local culture, record culture. Not just dance music, but back to my jazz roots, and soul, and just all sorts of music.
That, in turn, made the music that I was writing kind of come from that direction, whether it was a dance track or a jazz track, it was more focused than ever and it felt free. I felt good about it again. Because it was that night that started that chain reaction of thoughts and inspiration, I ended up naming it after that. It was actually my mom that suggested it.
MT: I love how the album strikes me as a bit of a love letter to Detroit and all the genres of music it covers.
Shigeto: It's everything I love about Detroit and Michigan music. Whether it's Don't Trip, with Kyle's (Kyle Hunter, aka Silas Green) kind of ghetto-tech style vocals over like a "Jit/Juke" tempo. Or it's like Z (ZelooperZ) and Kyle rapping over a track that's essentially an ode to Ann Arbor and Detroit ("A2D").
Then you have the jazz with Ian (Fink) and Marcus (Elliot), and you have Andrey (Douthard) from Paramita Sound as the guy who's doing the vocals on "Ice Breaker." It's very much just an ode to all of the influences and inspiration I have from Michigan music in general, like across the board. For somebody who knows me, they'd be like, "Oh, wow. This is a nice slice of Zach's mind and environment. It's an ode to Michigan music through his eyes."
MT: What lured you back to Detroit?
Shigeto: Essentially, Detroit is where my family is based. It's where my brother was living, it's where my father's from, it's where my grandfather had his life and it was in a point in my life where I needed to be growing in some way. In New York, it's like you're surviving month to month. You might have a scene there, you might have a crew there, but if you leave New York, New York is not going to change and if you stay, it's not going to change, and unless you have a lot of money, things aren't going to change, really.
I wanted to have a studio or be able to contribute to something. It's that here, we can have the Garage and we can inspire these kids. Here I can tell people on the internet to listen to local Detroit artists and with the voice and reach I have people will listen. I might as well use that voice in a place that I care about and feel very connected to. So I feel that the draw was to expand as a human, and create sustainability for myself and my family, and be closer to my family.
MT: Tell me about Portage Garage and the new label Portage Garage Sounds.
Shigeto: I think just being here in general, you get a really good sense of what is possible on your own, and outside of the box. You have more record labels here than places to buy groceries and they're all good. You're immersed in this culture where everyone is just doing what they want the way they want. It's people like Underground Resistance that are the torch of that mentality.
Ben and I are inspired in general by things that are formed from the community and for the community. People like Moodymann will talk about just constantly giving back. So Portage Garage for Ben and I initially was a dream living-work situation. Then it became, "How do we become a part of a city we love without alienating it, or exploiting it? How do we add to it in a positive way while knowing that we are not saving it and not trying to?"
Portage Garage is this space that we've converted into a gallery, a retail shop, and two studios; art and music. We run the label out of it, and the label for now is focused on exposing local music of all sorts.
(We also want) to give the opportunity for people who haven't to release physical music and know what it's like to put a record out. Also, we're working with the kids that come multiple times a week to make ceramics with Ben, and they're just in awe of the fact that it's free.
We had a kid come in yesterday and he just starts rapping for me on the spot. We're like, "Oh, yeah, that's really dope, man. We'll keep in touch. Come through any time." We go to his SoundCloud and the guy is amazing. I'm talking like Mobb Deep The Infamous, straight outta Hamtramck 15-year-old kid magic.
We just want to be like, "Hey, yeah. Let's put a tape out. You can keep 100 percent of the digital and we'll just put this tape out for you." There's a lot of cool opportunity here to be doing cool stuff I think in the right way, all of it is just a vessel for us to coexist, and hopefully create a positive space. Make the 20 feet in front of us better, and definitely expose the rest of the world to a lot of really good Michigan music.
Shigeto performs as part of The New Monday release party with ZelooperZ, MITNM, Coconut Babylon, and more on Saturday, Oct. 21 at El Club; 4114 W. Vernor Hwy., Detroit; 313-436-1793; elclubdetroit.com; Doors at 9 p.m.; Tickets are $5 to $10.