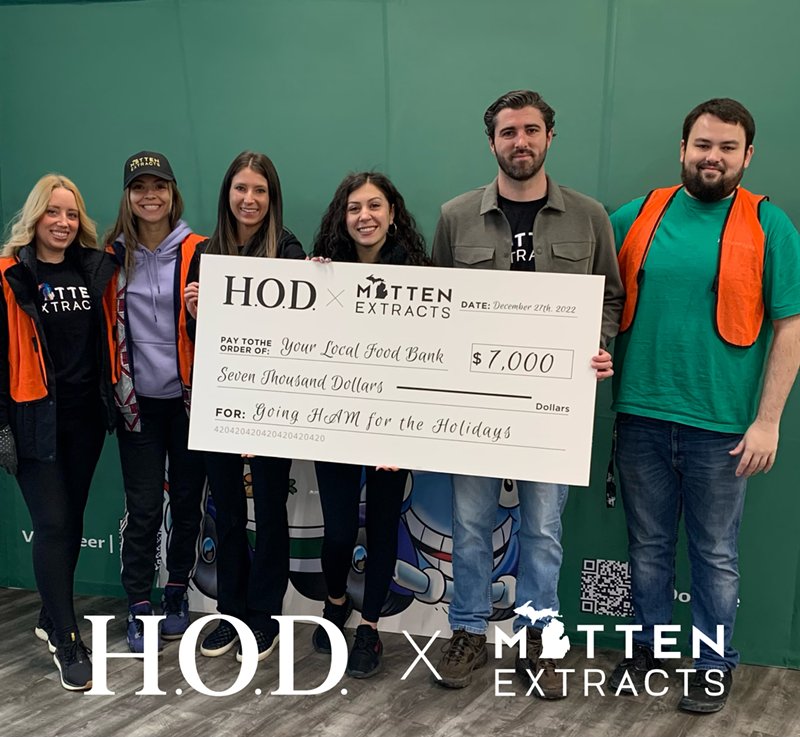 House of Dank and Mitten Extracts announces a donation of $7,000 to a local Metro Detroit food bank that helps to relieve hunger and prevent food waste.
The donation came after the close of their Going Ham for the Holidays campaign, from November 21st to December 18th, where a portion of proceeds from every Mitten Extracts product sold at any House of Dank location was counted toward the donation total.
On December 27th, in addition to their monetary donation, which will assist in providing 28,000 meals to neighbors in need, House of Dank and Mitten Extracts pledged to volunteer for a shift at the local food bank warehouse. The teams spent three hours packaging and preparing food for delivery. Twelve pallets were packed with 720 boxes of food that will be shipped out this weekend.
"We wanted to come together as two leading cannabis companies during a time of need and adversity. We started this campaign in 2021, and to date, have donated more than $13,000 to local organizations," says Owner of House of Dank, Marvin Jamo. "The idea was for us to give back to the communities we serve in a more demonstrable way than handing the beneficiaries a check. Going out and volunteering time was a huge contribution."
Co-Founder of Mitten Extracts, George Hallak says, "we appreciate the opportunity to partner with H.O.D and a local food bank to positively impact our local community. It was a great experience to volunteer our time to work with a community organization and their team to make a difference."
House of Dank and Mitten Extracts thanks all of the participation over the month-long period the funds were raised. Local food banks are always looking for help and volunteers, especially during the winter months.
About House of Dank:
House of Dank Medical & Recreational Cannabis is dedicated to providing world-class cannabis products. As a leading cannabis retailer in Michigan, House of Dank features a wide selection of medical and recreational flower, vaporizers, concentrates, edibles, CBD, tinctures, topicals, merch, and more. The talented in-house team has vast knowledge of the medicinal and therapeutic benefits of cannabis and work to ensure every consumer is receiving the perfect product. When you choose House of Dank you can expect industry-leading care, expertly crafted products and unmatched guest servicing. For more information, visit shophod.com or follow the company on Instagram and Facebook
About Mitten Extracts:
Founded in 2018 and acquired by Cloud in 2020, Mitten Extracts was developed in the Michigan caregiver market by two friends, Jacob Saboo and George Hallak, with a mission to deliver a brand focused on potency, locality and craft. Today, the brand produces cartridges, concentrates and edibles and has expanded its footprint, providing thoughtfully crafted, Michigan-made cannabis products to over 200 retailers across the state. Follow Mitten on Instagram @mittenextractsco or check out our website at Mitten Extracts | Michigan Based Cannabis Products