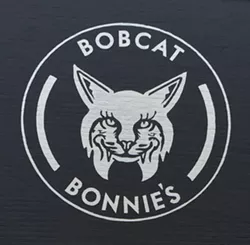 Last Friday we popped our head into the new
Bobcat Bonnie's location in Wyandotte
to get an idea of how things were going on and when the place would open.
The restaurant's gregarious co-owner Matthew Buskard was busy prepping the former location of Bourbon's for a wine-tasting event, but stopped to talk to
MT
about the space, which was still undergoing renovations as late as last Friday.
The space will mock Bobcat Bonnie's Corktown location with similar black and white wall murals, board games, wood flooring, succulents, and long wooden tables saddled with round stools.
Buskard teased that he'd open the restaurant to the public "before March 1," but was hesitant to release the actual opening date, hoping to avoid long lines that inevitably cause poor experiences for guests. He says the menu will greatly reflect what customers are used to at the Corktown location, including weekly specials like Monday burger night.