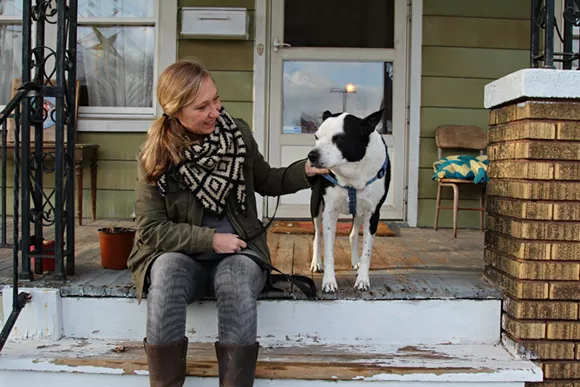 Our cover story this week
looks at Detroit's "puppycide" epidemic
— why the city's police officers are so trigger-happy when it comes to dogs.
And we're not just talking about, say, vicious pit bulls during drug raids. Last year, local musician Alison Lewis' dog Millie survived being shot in the face in public by a police officer.
A year and a half later, Millie is doing better. "It's pretty amazing. Like, you wouldn't know, now," Lewis says over the phone. "She lost a ton of teeth. Most of the damage was inside of her mouth. There's just one little scar from where the entry was. But she's doing really good."
Millie is no dangerous dog: as a performer, Lewis would routinely bring her onstage as part of her act. But on Sunday during Memorial Day weekend in 2015, Lewis brought Millie to Navin Field, which had become a de facto park ever since the old Tiger Stadium was
demolished in 2009
.
Lewis was sitting on a picnic table bench, chatting with some friends while Millie and another dog chewed on sticks. As was the case every Sunday at that time, volunteer groundskeepers were on site, as well as people playing baseball. As usual, they parked their cars on the field.
According to Lewis, with the busy holiday weekend, the police department called in extra patrol. That meant shuffling officers around. In this case, Lewis says the officers came from the nearby casino.
A police car pulled up to investigate the cars parked on the field. Lewis says she reached for her leash, when Millie "trotted" over toward the officer. That's when she noticed he was reaching for his gun.
"I was like, 'Whoa dude, she's not going to hurt you,'" Lewis says. "She wasn't barking or anything. And it was in that amount of time that he pulled out his gun and shot her."
At first, Lewis says she didn't think Millie got shot because she ran away from the officer. But when Millie turned around and starting running toward Lewis, she could see she was hit.
"He was going for the kill. He shot her in the face," she says. "Had it gone a centimeter in any other direction, it would have been a totally different story."
Fortunately, Lewis was with a friend who knew a veterinarian in Hazel Park would be open: they rushed Millie there for an initial emergency surgery. That's when Lewis learned it was a direct hit — not a ricochet as she suspected. Later, Millie would require two additional surgeries at Michigan State University to reconstruct the inside of her mouth.
If the cops were regulars, Lewis says, they would have known that there were always cars at Navin Field on Sundays. The officer also could have stopped at the gate and asked Lewis to leash her dog before approaching.
Lewis says she met with the Corktown police after. "He told me that cops in Detroit have not minute of training with animals," she says. "There's no protocol. It's just what they do."
Lewis has since moved out of the city after living there for seven years. The incident with Millie was the last straw.
She says Millie's condition is improving, though her breathing is a little different after the surgery. She also says Millie seems to be wary by open spaces.
"It took her a long time going out, even to a dog park," Lewis says. "But she's definitely not as trusting of people. I'm certainly not."