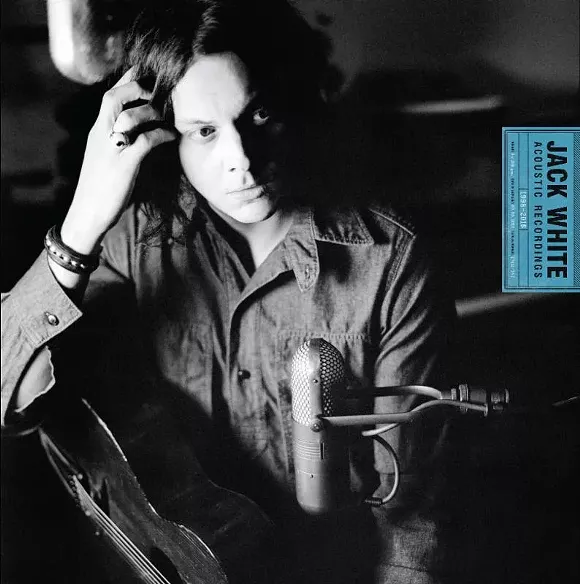 We already told you the other week of the very exciting news for even casual fans of the Grammy-winning musician: A record called
Jack White Acoustic Recordings 1998-2016
will be released from Third Man/Columbia on September 18. It's a double CD and a double LP, available for
pre-order right now, right here
.
Yesterday, White unveiled a really nifty and highly interactive web timeline you can access
right here at
jackwhiteiii.com
The timeline provides unparalleled new background, detail, and perspective on White's continuing artistic evolution, beginning October 23rd, 1998 with "Sugar Never Tasted So Good," the b-side to the second ever White Stripes 7" single. From there the chronology travels through the White Stripes' remarkable career, showcasing rare live footage like the duo's first-ever TV performance, a May 28th, 2000 rendition of "Apple Blossom" on Detroit Public Television's Backstage Pass. Never-before-seen photos, classic posters and gig flyers, handwritten lyrics, studio records, revealing historical facts, commentary, and other archival ephemera are joined by official videos, remastered audio, and classic TV performances, among them, The White Stripes' 2002 debut appearance on NBC's Saturday Night Live and a 2005 rendition of "As Ugly As I Seem" from the UK music series, From The Basement, directed by Sophie Muller and audio produced by Nigel Godrich.
The set includes a previously unreleased White Stripes number "City Lights." None other than Greil Marcus wrote the liner notes for the thing; this is gonna be good!
Jack White has announced the release of JACK WHITE ACOUSTIC RECORDINGS 1998-2016 (Third Man Records/Columbia). The 26-track double-LP and double-CD will be released physically and digitally worldwide on September 9th. Featuring alternate versions, mixes and previously unreleased recordings from The White Stripes, The Raconteurs and solo material all completely remastered, this is the essential Jack White songwriting collection. Find out more and preview the record here.

JACK WHITE ACOUSTIC RECORDINGS 1998-2016 is available for pre-order physically and digitally now. All digital pre-orders will receive an instant grat download of the spellbinding previously unreleased White Stripes track "City Lights" starting Friday, August 12th.

"City Lights" - which premiered today at jackwhiteiii.com - was written for The White Stripes' GET BEHIND ME SATAN but then forgotten until White revisited the 2005 album for Third Man's Record Store Day 2015 vinyl reissue and finished the recording in 2016. The track is the first new, worldwide commercially released White Stripes song since 2008.

"This, like (Son House's) 'Grinnin' In Your Face,' is mirror-music," writes renowned music journalist Greil Marcus of "City Lights" in the album's exclusive liner notes, "the singer talking to himself, trying to tell himself the truth, which he's going to need if he's going to step out of his door, walk into the world, and fool himself, for just a second, that he's ready to take it on. As you listen, it's no surprise at all that it took most of White's music-making life to bring the song home."

JACK WHITE ACOUSTIC RECORDINGS 1998-2016 collects 26 acoustic songs from throughout White's wide-ranging musical career, spanning album tracks, B-sides, remixes, alternate versions, and previously unreleased tracks. The album, arranged in chronological order, includes acoustic songs made famous by The White Stripes, beginning with "Sugar Never Tasted So Good" (originally found on The White Stripes' second-ever 7-inch single) and then lighting upon favorites like "Apple Blossom" and "I'm Bound To Pack It Up" (remixed here from the original recordings on 2000's DE STIJL), "Hotel Yorba" and "We're Going To Be Friends" (from 2001's WHITE BLOOD CELLS), "You've Got Her In Your Pocket" and "Well It's True That We Love One Another" (from 2003's GRAMMY® Award-winning ELEPHANT), "Forever For Her (Is Over For Me)," "White Moon" and "As Ugly As I Seem" (from 2005's GET BEHIND ME SATAN) "Effect & Cause" (from 2007's ICKY THUMP), and the Beck-produced "Honey, We Can't Afford To Look This Cheap," first found on the B-side to The White Stripes' final single, 2007's "Conquest."

Also featured are "Never Far Away" (recorded for 2003's COLD MOUNTAIN: MUSIC FROM THE MIRAMAX MOTION PICTURE) and "Love Is The Truth" (written and recorded for Coca-Cola's 2006 What Goes Around campaign) as well as the Bluegrass Version of "Top Yourself" and an acoustic mix of the epic murder ballad, "Carolina Drama," both written by White and Brendan Benson for The Raconteurs' GRAMMY® Award-winning 2008 album, CONSOLERS OF THE LONELY. White's two chart-topping solo albums, 2012's BLUNDERBUSS and 2014's LAZARETTO, are represented by a remarkably diverse range of material including "Love Interruption," "On And On And On," "Blunderbuss," "Entitlement," "Want And Able," and alternative mixes of "Hip (Eponymous) Poor Boy," "Just One Drink," "I Guess I Should Go To Sleep," and B-side, "Machine Gun Silhouette."

The 26 tracks featured on JACK WHITE ACOUSTIC RECORDINGS 1998-2016 were remastered earlier this year by Andrew Mendelson at Nashville, TN's Georgetown Masters. All songs were written and produced exclusively by Jack White, except "Never Far Away" (produced by T Bone Burnett), "Honey, We Can't Afford To Look This Cheap" (produced by Beck), "Top Yourself (Bluegrass Version)" and "Carolina Drama" (written & produced by White & Brendan Benson), and "Machine Gun Silhouette" (written by White & Rob Jones). The complete track listing is below.

SIDE A
1 Sugar Never Tasted So Good
2 Apple Blossom (Remixed)
3 I'm Bound To Pack It Up (Remixed)
4 Hotel Yorba
5 We're Going To Be Friends
6 You've Got Her In Your Pocket
7 Well It's True That We Love One Another
8 Never Far Away

SIDE B
9 Forever For Her (Is Over For Me)
10 White Moon
11 As Ugly As I Seem
12 City Lights (Previously Unreleased White Stripes Track)
13 Honey, We Can't Afford To Look This Cheap
14 Effect & Cause

SIDE C
15 Love Is The Truth (Acoustic Mix)
16 Top Yourself (Bluegrass Version)
17 Carolina Drama (Acoustic Mix)
18 Love Interruption
19 On And On And On
20 Machine Gun Silhouette (Acoustic Mix)

SIDE D
21 Blunderbuss
22 Hip (Eponymous) Poor Boy (Alternate Mix)
23 I Guess I Should Go To Sleep (Alternate Mix)
24 Just One Drink (Acoustic Mix)
25 Entitlement
26 Want And Able