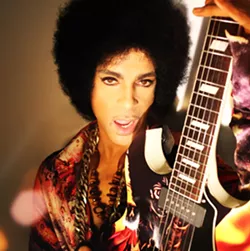 In honor of the Purple One's 58th birthday today, the governor of Minnesota declared that
June 7th will forever be remembered as Prince Day
, a day we can all get down with.
The governor encouraged the people of Minnesota to wear purple in remembrance of the icon, but we think that EVERYONE should wear purple for Prince. Just do it. It feels right.
Since the news broke of his death, dozens of musicians and bands have paid tribute to him by covering his songs. Here is a collection of some of our favorite videos that concert goers have posted on YouTube.
Bruce Springsteen covering "Purple Rain"

Dixie Chicks covering "Nothing Compares 2 U"
Haim covering "I Would Die 4 U"
Janelle Monae covering "Let's Go Crazy"
Beck covering "Raspberry Beret"