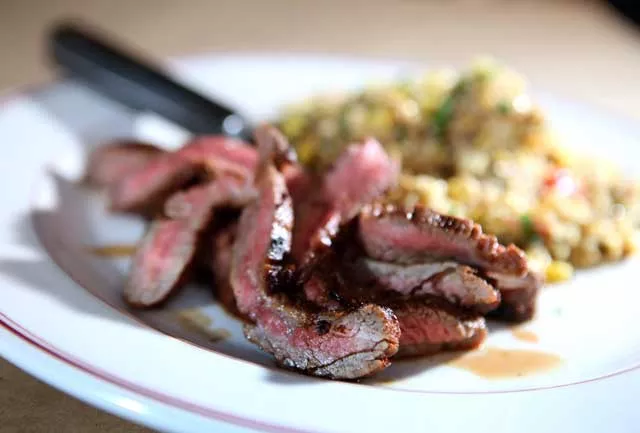 Vinsetta Garage
27799 Woodward Ave., Berkley
248-548-7711
Handicap accessible
Appetizers, soups & salads: $3.95-$7.50
Sandwiches & pizza: $6.95-$14.50
Entrées: $10.50-$33
Open 11 a.m.-11 p.m. Monday-Saturday,
11 a.m.-9 p.m. Sunday
Few restaurant openings this year have generated the incredible hype that surrounded the resurrection of Vinsetta Garage, the auto shop-turned-trendy restaurant on Woodward in Berkley. Brought to you by the owners of the Clarkston Union and Union Woodshop, restaurants with cult followings of their own, Vinsetta Garage had accolades before serving one bite of food. With two-hour waits all summer, we decided to reserve judgment for a few months, and visit when things had calmed down somewhat. You'll still wait most nights for dinner, but on a recent Friday we were seated after a mere 45 minutes — a good amount of time to enjoy a pre-dinner drink in the bar area.
Vinsetta's buzz initially had more to do with the design and decor than the food — much effort was expended to incorporate existing elements of the original building, as well as to add lots of retro and car-themed touches. One co-diner remarked that some of the decor reminded her ever so slightly of those faux-nostalgia chain restaurants of the 1980s, but she was in the minority; the overall effect is more cool than kitsch, and much more stylishly executed than those places ever were. Plus, this is the real deal: in the waiting area, the garage's old service orders serve as wallpaper, and beautiful antique lighting and original fixtures are prominent throughout. The interior consists of one large, open room and two smaller areas off the main room that are slightly quieter. Dinnertime is great if you don't mind a noisy, bustling atmosphere, but my favorite visit was at lunchtime, when skylights and numerous windows provided ample natural light, and the noise was more a hum than a roar.
The service we experienced at Vinsetta was prompt and friendly, if a bit artificially bright. Even during very busy times, servers let us take all the time we needed to ask questions, without acting rushed or put out. Although I'd heard rumors of staff being "too cool for school," we did not encounter any of the attitude that can sometimes be prevalent in popular new establishments.
The restaurant aims to serve the kind of hearty American fare a mechanic might have eaten after his shift — burgers, pasta and pizza, with a few entrées and casseroles rounding out the offerings. The lunch menu is similar, but instead of the entrées, there's a selection of gussied-up hot dogs with accoutrements such as cherry compote, tzatziki, grilled pineapple and garlic sprouts (thankfully, not all on the same dog). My friend was overwhelmed in a good way by her "3 a.m. dog": two hot dogs replete with bacon jam, sriracha mayo and a fried egg.
Fans of wood-oven pizza should be pleased with the restaurant's version, whose thin crust strikes a good balance of char, crunch and chew. We tried a pie with pineapple and tasso (a type of ham, cured in-house) and it could hardly be improved upon. The burgers seem hit-or-miss: one co-diner deemed his Vinsetta burger greasy and overcooked; on another visit, a friend declared it "one of the best I've ever had." Straying from the usual suspects one night, we tried the sweet chili-rubbed flank steak and a duck burger with cherry compote. The flank steak was a little too sweet, but the meat was tender, with good chili flavor. As for the duck burger, it was an interesting and tasty diversion, but I'd probably tend to stick with the menu's more traditional offerings. A couple menu items are imported from the owners' other restaurants, including the popular mac & cheese we ordered as a side. We found that it lived up to its reputation, with a rich, tangy cheddar flavor and crunchy top.
Vinsetta may have an old-school comfort food menu with lots of meat-centric items, but in keeping with modern trends, they also accommodate special-needs diners with gluten-free and vegan options. A vegetarian friend was thrilled with her veggie burger, which had "actual flavor"; a vegan version of the popular meatball dinner is available as well. Gluten-free items are made in a separate area to avoid contamination.
To wash down your burgers and pies, Vinsetta offers an extensive beer list ranging from cheapy "lawnmower beer" to more esoteric imports and craft beers. Make like a mechanic and skip the very average wine list and pricey cocktail menu (one we ordered was overly sweet and not properly chilled); you'll find plenty of brews for every taste and price range. For dessert, indulge in a boozy "adult milkshake" or a nostalgic, whimsical s'mores trio with three flavor combinations of cookie sandwich and homemade marshmallow (if you don't have room, it's worth getting some to go).
Although the food wasn't perfect on every visit, we appreciated that Vinsetta takes pride in making many items in-house — noteworthy for a restaurant in this price range. From the smoked cheddar and house-pickled chiles on the "Loaded Chips" to the spicy pork sausage in the chile verde, many ingredients are prepared, cured or smoked on-site or at the Union Woodshop. It's old hat for upscale restaurants these days to feature house-cured meats and other from-scratch ingredients, but we're thrilled to see the trend expanding to affordable mid-priced eateries. This ups the ante for the competition, and (we hope) will challenge other restaurants to follow suit. The novelty of Vinsetta's expensive remodel will wane over time, but the commitment to detail and quality should hook customers and keep them returning.