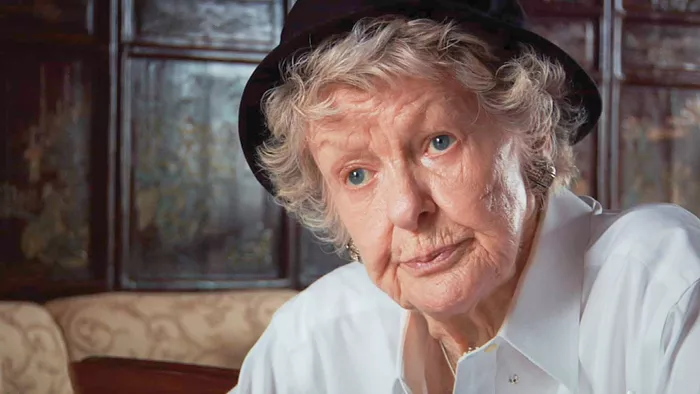 Elaine Stritch: Shoot Me | B+

Spending a scant 80 minutes in the eye of the tempestuous human whirlwind called Elaine Stritch is fairly exhausting for a viewer, so heaven knows how she's managed to inhabit her own skin for 89 years. Detroit-born but Broadway-baptized, the legendarily feisty, gifted and charismatic grand dame of the stage and screen has been traipsing through the spotlight since 1944, yet she seems eternal; an endless, inexhaustible expression of love and fury that encapsulates all the agony and joy of the creative process in one frail little frame.
This warts-and-all documentary follows the firebrand octogenarian as she cannonballs through her daily rituals with a tenacity and focus that should shame people a third her age, and as she carries on a ceaseless, sometimes caustic dialogue with anyone in earshot and, even more often, with the ghosts inside her skull. Stritch has lived enough for a thousand regular lifetimes, and danced and drank her way through all of it. Many actors famously disappear in their roles and never develop a personality, but not so with Stritch, who is irrepressibly, uncomfortably honest about every facet of her life, from her triumphs, failures, her alcoholism and parade of past lovers, like Kirk Douglas, who swept her off her feet as a girl. She simply can't turn it off, a process one suspects is only partly exacerbated by having a camera following her every step. Her co-stars, from 30 Rock's Tina Fey and Alec Baldwin to the late James Gandolfini, all adore her, and endure her jabs and rants with grace.
She's slowed a bit, but the show must go on, even as we see Elaine struggle with diabetes and the generally declining health that accompanies her age. She returns home for a run at Detroit's Music Hall, and vows to give her hometown a hell of a show, though you can't imagine her doing anything else. We see her rehearsing a new one-woman show of Sondheim tunes, a songwriter whose lyrical complexity requires mental dexterity, a task the old pro stumbles over, but still handles with aplomb.
The old gal still has it, even as she increasingly mulls the final curtain, and the mortality that her tenacious ego rages against. By the film's end, she's moved out of New York, bought a swanky condo in Birmingham, and entered semi-retirement, but it will not, we can imagine, be a quiet bow.
Elaine Stritch: Shoot Me runs 80 minutes and is in select theaters now.