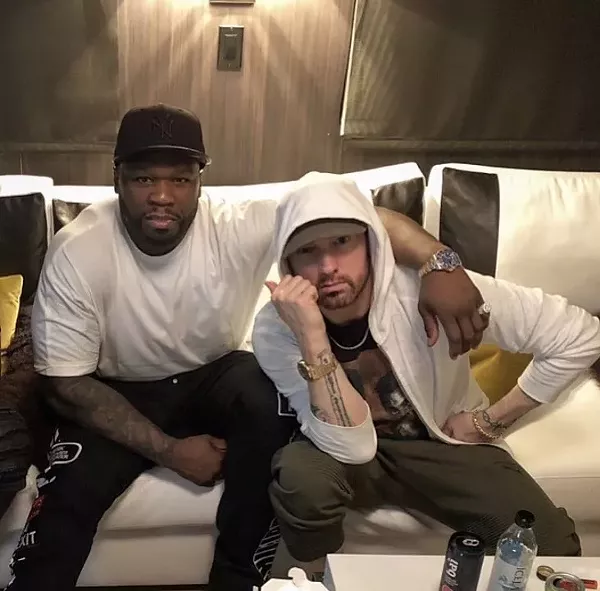 How the fuck does
anyone
follow Beyonce's earth-shattering Coachella performance?
Seriously
. She's the first woman of color to headline the festival and people have rightfully renamed it "
Beychella
." We could talk all day about the
Destiney's Child reunion
,
Jay-Z's appearance
, her
duet with sister Solange
, or the fact that
she apparently changed her nail color between songs.

But Detroit's own rap maverick Eminem took on the impossible task in his first Coachella headlining performance. This wasn't his first time playing the festival. In 2012, he was forced to follow that damn
Tupac hologram.
While the world basked in the Bey afterglow, Em delivered what is being called a "career-spanning" performance Sunday night that was more filling than
mom's spaghetti
.
Kicking off the set with rogue tracks, "Medicine Man", "Til' I Collapse", and "Square Dance," it wasn't until 2000's
"Kill You"
that the set gained unstoppable momentum.
It wouldn't be Coachella without special guests. In this case, Eminem called upon his most loyal of collaborators. Em's protege 50 Cent hit the stage for their featured tracks "Crack a Bottle" and "Patiently Waiting," and performed a medley of his own hits including the nostalgia favorite "In Da Club."
Dr. Dre emerged during "Slim Shady" and remained on stage for "Forgot About Dre" and "Nothing but a G Thang" where Em took on Snoop Dogg's verse. Kehlani and Bebe Rexha joined Em as did his righthand lady Skylar Gray who stepped in to take on Beyonce's part in "Walk on Water," Rhianna's verses in "Love the Way You Lie," and Dido's bit in "Stan."
In addition to being the 45-year-old's first time headlining the festival, Eminem took a moment to celebrate a more personal accomplishment.
"Ten years sober this week,"
he announced before launching into 2010's "Not Afraid."
"I could not have done that shit without
y'all
."
As a precursor to the second half of his set, Eminem took pause to put haters on blast with a brief segment where the
rapper read mean tweets about himself
, a sketch that has been made popular on
Jimmy Kimmel Live.


The only downside of Eminem's set was that it was not livestreamed on Coachella's YouTube channel.
"Eminem just brought out 50 cent"

- Me on the couch with no Coachella Eminem stream pic.twitter.com/CjVLZaSdcF

— SoCalNoel ☀️ (@SoCalNoel) April 16, 2018
In a weekend of firsts, Detroit rapper
Dej Loaf
also took the stage for her Coachella debut and is making
headlines for her "show-stopping" performance hair
.
You might remember Dej Loaf from her
2014 YouTube hit "Try Me."
Soon after she was featured on
Eminem's massive collab "Detroit Vs. Everybody"
and was later invited to join Nicki Minaj on tour. Last year she teased the release of her debut record,
Liberated
, with the single
"No Fear."
April 13, 2018
In other Coachella news, new kids on the block and Frankenmuth based retro-rockers, Greta Van Fleet made their debut at the festival Saturday afternoon. The Led Zeppelin sounding squad have garnered famous friends and fandom from the likes of
Sir. Elton John who invited GVF to perform
at his annual Oscar party and
Robert Plant even called frontman Josh Kiszka "pretty good."
Thanks to the perpetual privileged red carpet that is Coachella, the GVF boys caught the eye of sunburned Canadian pop star Justin Beiber.
Bieber, clad in a Tommy Bahama frock and socks
with
sandals referred to GVF as a "fav" in an Instagram post where the "What Do You Mean?" singer appeared half-asleep.
Stay on top of Detroit news and views. Sign up for our weekly issue newsletter delivered each Wednesday.