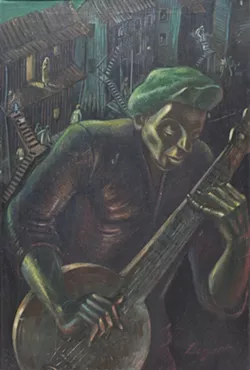 John Thomas Biggers'
The Mandolin Player
is an important painting for many reasons. First, the painting is representative of the social realist movement of the '30s and '40s. You might know another famous artist who made social realistic art, his name was Diego Rivera. He's kind of a big deal in Detroit.
Second, Biggers was a "master artist, educator, author, draftsman and sculptor, and one of the most prominent African American artists to emerge in the years following World War II." Maya Angelou was even quoted as saying that the artist, "leads us through his expressions in to the discovery of ourselves at our most intimate level."
Third, it shows that the Charles H. Wright Museum of African American History, which is already pretty great for any number of reasons, is committed to maintaining important works of art and art history. The restoration is happening in partnership with Bank of America, which is providing funds for the project.
The Mandolin Player
depicts a black mandolin player strumming against a backdrop of an impoverished black community and is "firmly grounded in conversation with other works in the history of painting musicians."
The painting, which was completed sometime in the 1940s, has been in the museum's collection since 1988. According to a press release the painting will undergo "cleaning, removal of surface soil and stain; and consolidation to restore as much of the original color and hue as possible. It will also stabilize the canvas to prevent further deterioration."