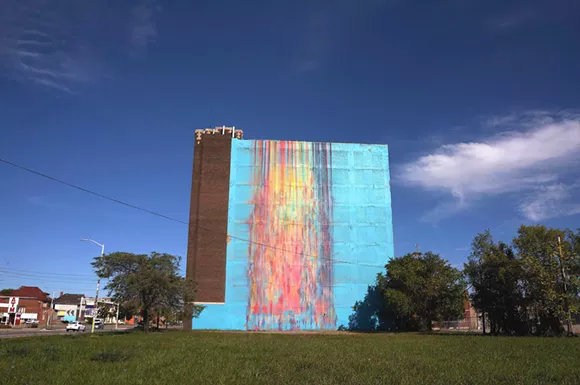 The artist behind the eye-catching "Illuminated Mural" painted on the side of 2937 E. Grand Blvd. in Detroit filed a federal court lawsuit Tuesday in an attempt to protect her work from possible destruction at the hands of the suburban-based developer.
As reported
by Kriston Capps for
CityLab
, artist Katie Craig "seeks an injunction that would bar the developer from destroying or otherwise altering 'The Illuminated Mural' — something that the developer intends to do in order to convert the building into lofts or apartments." To do so, Craig and her lawyers are invoking the Visual Artists Rights Act, a 1990 law that expanded federal copyright to protect artwork of "recognized stature."
The mural — a raw, nine-story splash of neon color that Craig spent nearly a year making when it was completed in 2009 — was funded by a $33,000 Community + Public Arts: Detroit grant from the College for Creative Studies. (Full disclosure: I attended CCS at the same time as Craig.) Following the news of the lawsuit, much has been written about the value and merits of Craig's artwork. Capps at
CityLab
called it "a rich and irreplaceable work of art." Mark Stryker in
The Detroit Free Press
called it "maybe Detroit's most drop-dead gorgeous mural."
But in truth, reactions to Craig's work varied from the start — especially among residents of the North End neighborhood.
In a
June 16, 2010 article
by freelance writer Ryan Patrick Hooper, Craig — then 26 — somewhat unconvincingly told
Metro Times
she was "inspired by a lot of stuff going on politically, socially and economically in the North End" when devising her mural.
How exactly her giant abstract painting — literally buckets of paint dumped down the side of the building — is inspired by the neighborhood is unclear.
"[The mural] doesn't say 'North End,'" Craig said. "It's not a figure. There's no distinctive imagery to it. It's more about seamlessly mixing in with the urban environment and speaking to people."
But in Hooper's 2010 story, members of the community seemed bewildered by the mural:
At a recent Sunday service at a local Metropolitan United Methodist Church, several churchgoers and North End residents said the mural's meaning, and its community purpose, perplexed them. Irvin Johnson, a barber at the nearby Metropole Barber Shop, echoes this sentiment. With the historical Motown Museum just down the street, he says the mural could have depicted something more relevant to his neighborhood.

"It doesn't have any formation," Johnson says. "It's just paint slid down the side of a building."

And the Reverend Dr. Marvin Youmans, pastor of Mt. Carmel Missionary Baptist Church and president of the North End Ministerial Alliance, is ambivalent; he doesn't know if the mural "makes a difference one way or another" improving the quality of life in the neighborhood.
(When asked about the community interpretation of her art, Craig said implementing art in urban areas is "often about examining the needs of the people ... Not just what they think their needs are.")
Another fact of street art is the way it's always ephemeral in nature — even when it comes to commissioned murals. And Craig anticipated this. According to Hooper, part of the CPAD grant went to paying off a local graffiti collective in cans of spray paint to prevent them from tagging over the mural. It's also worth noting that "Illuminated Mural" is already an incomplete work of art. About $8,000 of the grant went toward a sculptural aspect that was to incorporate laser-cut Plexiglas, solar-powered panel installations, and LED lights. They were never installed after it was decided they would be stolen.
Regardless of whether Craig's mural meets your personal tastes, there's no denying there is something distinctly "Detroit" about it — and it has become a fixture in the landscape of the city. But whether Craig and her lawyers have any ground here remains to be seen. A similar case has historical precedence — in 2006 muralist Kent Twitchell sued the federal government using the Visual Artists Rights Act after it painted over his famous 1987 Los Angeles mural, "Ed Ruscha Monument." The artist won a $1.1 million settlement in the case.