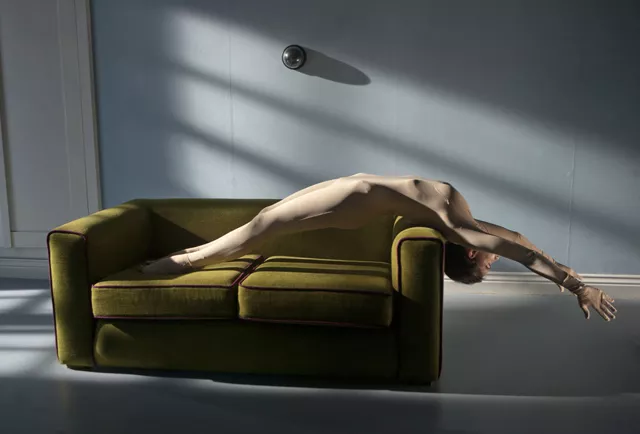 The Skin I Live In
Directed by Pedro Almodóvar. Written by Agustin Almodóvar and Pedro Almodóvar. Based on the Thierry Jonquet novel. Starring Antonio Banderas, Elena Anaya, Marisa Paredes and Jan Cornet. Directed by Pedro Almodóvar. Running time: 116 minutes. Not rated.
C
Oh, boy. It's no secret that Pedro Almodóvar's films have long been testing the boundaries between heterosexual and homosexual longing while expressing his fetishes for Hitchcock, beautiful men and women, tortured family histories, garish melodrama, murder and kink. All are displayed in The Skin I Live In — and then some. But despite the Spanish director's velvet-lined mise-en-scène, giddy sense of camp, and skillful plot juggling, his latest is little more than a lurid 1950s horror pulp with Douglas Sirk affectations and art-house trimmings. In many ways, The Skin plays like a parody of the filmmaker's more risqué work. And much as Brian DePalma simultaneously paid homage to and cheapened Hitchcock, Almodóvar layers his influences with a demented sense of grandiosity. How do you know you're watching a Pedro Almodóvar film? In this case it's when a hulking thug shows up at a well-manicured mansion dressed in a skintight El Tigre costume.
Suave and smooth Antonio Banderas (who remains timelessly handsome) is Robert Ledgard, doctor and cutting-edge researcher. His specialty and passion is artificial skin replacement for burn victims — inspired, no doubt, by the tragic car accident that took his wife's beauty, then her life. But the good doctor has pushed past the bounds of ethics and started experimenting with genetic material from other species. This has forced him to build an experimental lab on his estate, where he keeps the mysterious Vera (the ravishing Elena Anaya) in a locked room. The very definition of female perfection, she wears a strange flesh-colored body suit that hides more than the flame-resistant skin Ledgard has created.
To say anymore would be a disservice to those hungry for Almodóvar's pervy plot twists, but it suffices to say The Skin is, in many ways, a culmination of the director's gender-identity obsessions. Some will compare the film to George Franju's Eyes Without a Face, but the truth is, the film's tropes (a mad scientist, an obsessive love for a beloved family member, twisted revenge) have been standard attributes of many a classic horror film. What's surprising is Almodóvar's lumbering pace and sluggish second act. Introducing a new roster of characters halfway through, the movie peels back, revealing its secrets, but does little to explore the sexual and psychological underpinnings of Ledgard's compulsions. Instead we get a suffocating and mostly humorless thriller that unspools its revelations slower than it should, setting up the audience to roll its eyes with each "he wouldn't go there" twist.
Banderas does the best he can with his dull doctor, but Almodóvar never allows us an emotional window into his sad and desperately perverse reach for happiness. Instead, he tries to keep a lid on the film's shocking secrets for so long that they produce chuckles of derision rather than exclamations of surprised provocation. Even so, there is an undeniably hypnotic quality to his misguided exploration of identity and sexual desire.
More troubling is the misogyny here. Though long celebrated as a feminist and lover of women, I have viewed Almodóvar's films as being in love with the idea of women, a kind of gay infatuation with the cinematic idealization of females as canvases for fashion, glamour and passionate histrionics. Almodóvar's latest validates my suspicions with its absolute objectification of the fairer sex. Here, women are defined and owned by men. Their sole virtue is presented as an ability to provide sexual fulfillment for the men that desire them. Worse, the movie actually puts forward the premise that there is no greater punishment than to become a female. Not even DePalma, at his sleaziest, or Hitchcock, at his most sexually frustrated, dared to be so unabashedly ugly.
Open Friday, Nov. 18, at the Main Art Theatre, 118 N. Main St., Royal Oak; 248-263-2111.