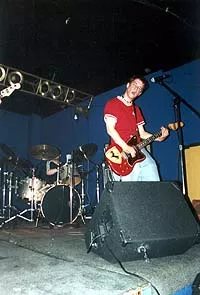 Soaking within searing guitar strains and sweating-inside, scratchy security blanket vocals, the sincere lads who make up Lincoln Park's Strapped to a Rocket know how to take control of a room, whether they're attacking with a punk wail or enticing with muted emotion. A sincere dedication to quality shines through everything they do, from give-it-your-all performances for a few friends at teensy venues to the well-thought-out CD artwork on their debut,
Forget the Fireworks
, to the tight compositions scratched into the disc itself. With such intense devotion and a genuine love for music, they're on their way to wherever the rocket may take them, be it S.T.A.R-dom or simple appreciation by whomever happens to enter the room.