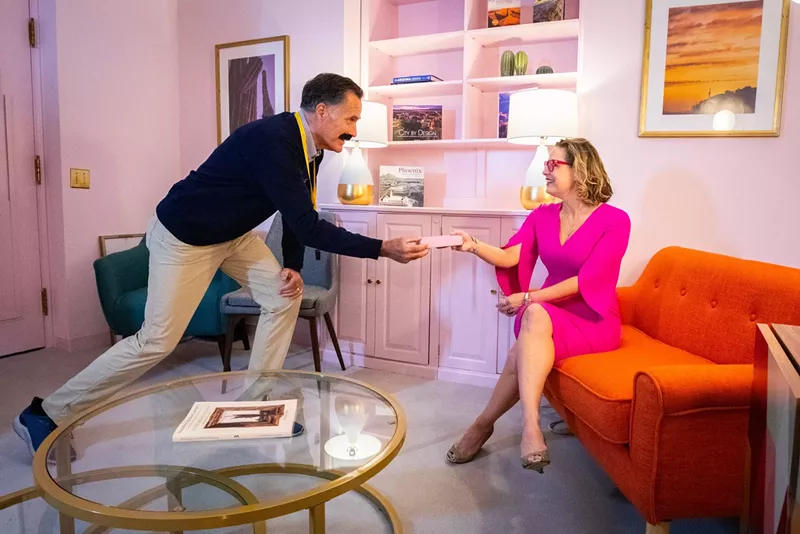 If you logged onto Twitter today, you, like us, may be asking yourself: how did we get here? And, more importantly, how do we make it stop?
The answer:
be a goldfish
.
Of course, we're referring to Michigan-born, one-time presidential hopeful and flip-flopping Senator Mitt "
binders full of women
" Romney,
a man who struggles to blow out birthday candles on a Twinkie cake
and is
estimated to be worth somewhere around $280 million
.
In other words, a man of the people, er, like, 1% of the people.
If you believe in yourself, and have clear eyes and full hearts—you can't lose. pic.twitter.com/CpkmFKo49i

— Mitt Romney (@MittRomney) October 28, 2021
Romney could not be more different than Ted Lasso, the fictional mustachioed American college football coach who, on his titular Apple+ series, becomes an English soccer team's unlikely last hope, and is, apparently, Romney's choice for a Halloween costume.
Lasso, played by actor Jason Sudeikis, has, in just two seasons, become one of the most beloved characters in television history thanks to his can-do attitude, and
his motivational metaphor-heavy approach
to everything from soccer, friendships, love, loss, and mental illness. But for many, Lasso is a sacred totem that has, as of Thursday, been tainted by a guy who clearly lacks the charisma and relatability that Sudiekis' character has become synonymous with. For fuck's sake, Romney once said the following: "Tomorrow we begin a new tomorrow." What does that even... you know what? Nevermind.
Here is Mitt Lasso (which is a pretty good porn name if you ask us) re-creating the daily delivery of Lasso's homemade shortbread biscuits to Arizona's bisexual,
denim vest-wearing
Sen.
Kyrsten Sinema (D-Big Pharma), who is cosplaying as Lasso's boss, Rebecca Welton, owner of the AFC Richmond soccer league.

To quote
Metro Times'
sex columnist Dan Savage:
What the actual fuck
?
Savage is not alone as Twitter is, well, doing what Twitter does best: adding the Brazzers logo to Romney's ill-conceived attempt to be likable, relatable, and, well,
human
.
October 28, 2021
Is it getting hot in here or is it just the hell we're living in?
it you don't realize this is a ted lasso reference it 100% looks like a weird sex thing

— josh terry (@JoshhTerry) October 28, 2021
Some Twitter users are using this stunt to point out the ironic hypocrisy of Romney's costume choice.
You do realize that in a Ted Lasso world you're the guy on left, right? pic.twitter.com/YMWZjyFWJQ

— Kentucky's Ark (@NickWohlleb) October 28, 2021
That's so funny! People in both of your states go bankrupt from medical bills!

— preselectlee 🐶 (@preselectlee) October 28, 2021
Yes. "Biscuits with the boss." pic.twitter.com/0CwsVk5FxH

— Jack Hutton 🇺🇸 (@jackhutton) October 28, 2021
LET THEM EAT BISCUITS!

This is really sick, and poorly played. #LetThemEatBiscuits

— Amy Siskind 🏳️‍🌈 (@Amy_Siskind) October 28, 2021
A reminder that Mitt Romney's public position is that it should be legal for Kyrsten Sinema to be fired from a job for being bisexual https://t.co/WEpbak62gq

— Steve Morris (@stevemorris__) October 28, 2021
The show only really started to resonate with Mitt Romney when they killed that dog in season 2. https://t.co/tXYRYcmkjO

— Travis Helwig (@travishelwig) October 28, 2021
It's nice to see two people from two different parties come together over their mutual disdain for the poor and love for lining their own pockets

— legal observer (@legalobserver1) October 28, 2021
ted lasso writing room figuring out how to diss mitt romney in s3 to distance themselves pic.twitter.com/252PZoKHRS

— mac (@donnalymoss) October 28, 2021
While some pose questions on all of our minds.
are you high

— Jeff Tiedrich (@itsJeffTiedrich) October 28, 2021
This is some of the weirdest shit I've ever seen on so many levels. I feel like I'm on acid.

— 💀Bob Lynch💀 (@Bob4Florida) October 28, 2021
OK, OK, but, most importantly, what does Ted Lasso think of this?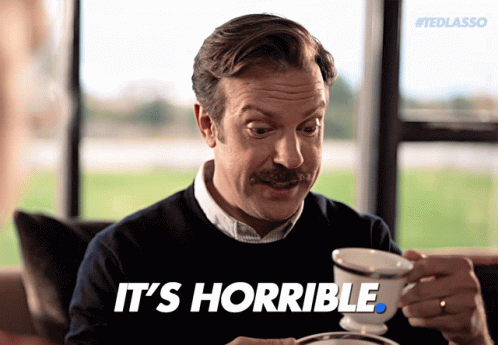 Stay connected with Detroit Metro Times. Subscribe to our
newsletters
, and follow us on
Google News
,
Apple News
,
Twitter
,
Facebook
,
Instagram
, or
Reddit
.