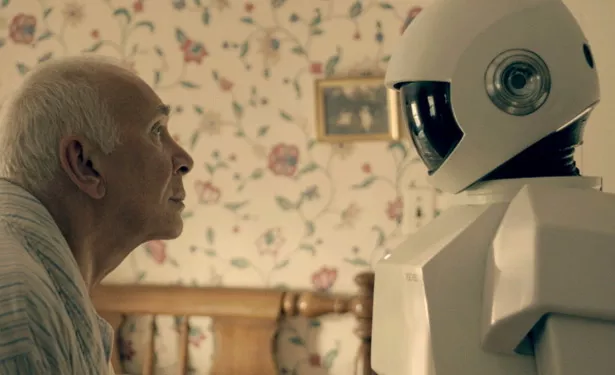 Robot & Frank| B+
This isn't the movie you expect it to be, even while you're watching it. The feature debut of screenwriter Christopher D. Ford and director Jake Schreier, this modest and disarmingly sly buddy film masquerades as domesticated science fiction in order to obfuscate the tender and artful drama that slowly reveals itself.
Frank Langella is Frank, a retired thief living in rural upstate New York. In his younger days, Frank was a successful "second-story man" who ended up serving many years for his crimes. Today, he struggles to remember that his favorite diner closed years ago. The early stages of dementia have begun to set in. It's for this reason that Hunter (James Marsden), Frank's son, has brought him a robotic home health aide (masterfully voiced by Peter Sarsgaard). Needless to say, the old man isn't particularly happy with his polite but nagging electronic assistant. That is, until he discovers that the robot could be used to facilitate a few robberies. Surprisingly, robot goes along with the plan, believing that such projects will slow his owner's mental and physical decline.
Frank's modest schemes become grander as he plans to burglarize the mansion of the condescending millionaire prick who has privatized and technologically updated the town's aging library. Unfortunately, when a naïve robot and cat burglar with dementia plan a million-dollar heist the outcome is less than certain.
A rueful and sometimes funny meditation on aging, memory, connection and sacrifice, Robot and Frank is filled with characters awkwardly struggling to integrate the advance of technology into lives that, for the most part, haven't changed much. It's a troubling vision of the near-future, where computerized innovation evolves in parallel with the lives it impacts, leaving some to wonder where they fit in. Ford's writing doesn't explore and exploit its ideas as much as it could. The final act, in particular, feels rushed and formulaic, and a subplot with Frank's daughter (Liv Tyler) goes nowhere — but it does benefit immensely from his underlying character study, which is rich, tender and artful.
Langella is so effortlessly good as Frank, a proud man who doesn't seem to appreciate his deteriorating mental state, that you commit to the seemingly scattershot narrative. Susan Sarandon is similarly terrific as the librarian Frank flirts with. Their relationship is especially handled with delicacy, reaching a conclusion that is both startling and heartbreaking. In what seems like an offhand subplot, Frank decides to steal a rare copy of Don Quixote for his would-be paramour. It's a minor scene but, upon reflection, becomes a poignant and incisive metaphor for his deluded plans to rekindle his career as a thief, with a robotic Sancho Panza by his side.
Smart and sweet, Robot and Frank feels familiar while you're watching it yet consistently finds ways to catch you off-guard. It's the kind of low-key film that's easy to overlook but shouldn't be missed.