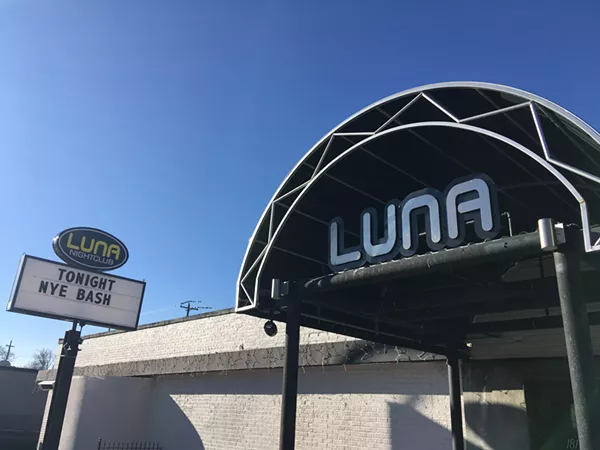 Royal Oak's Luna nightclub has slung its last $2 you-call-it. The popular nightclub — and perennial winner of
Metro Times'
"Best of Detroit" poll — announced in a Facebook post on Thursday evening that it was abruptly closing.
"After 19 years in business & serving all of you amazing people, Luna Nightclub has now officially closed its doors with extremely heavy hearts," the post reads. "Thank you for your business, your smiles, your dances & your love & support over the years. Thank you for choosing Luna to celebrate your birthdays, bachelorette parties, divorce parties, onesie bar crawls and more."
This hurts more than I thought it would. On the one hand, one of the last times I was there I had to sleep in my car in the parking lot of National Coney Island because I drank too many $2 you-call-its. (Reader, this was before Uber.) There were way more dudes than women, and one of them tried to start a fight with me. On the other hand, my 20s were punctuated by many fond memories at Luna.
While the rest of Royal Oak's nightlife scene has become very slick and cha chi over the years, Luna was always kind of the weirdo on the outskirts of town where anything goes, attracting everyone from party buses full of tiara-wearing bachelorettes to that one guy wearing a matching Cookie Monster hat and T-shirt who just wanted to dance alone for five hours. The drinks were cheap, the Luna Dancers were beautiful, the bartenders were flirtatious, and they played a mix of Top 40 pop and weird shit that I never heard before. (Who knew Brittany Murphy
had an EDM career
? I did not.)
Along with spots like Noir Leather and Gusoline Alley, it was one of the last vestiges of Old Weird Royal Oak. And it will be missed. RIP, Luna.
The closure joins other longstanding businesses in Royal Oak that have
shuttered in recent months
, including Cantina Diablos, Andiamo, Pasquale's, and Beirut Palace.
Stay on top of Detroit news and views. Sign up for our weekly issue newsletter delivered each Wednesday.