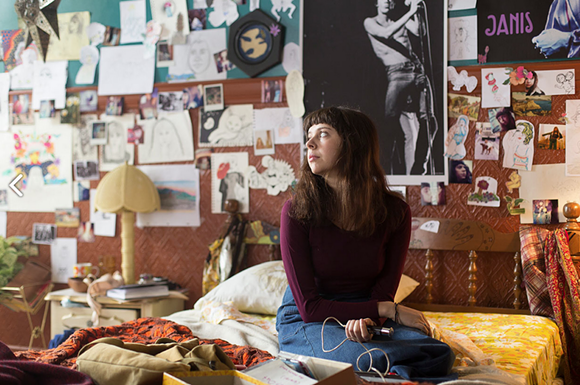 Diary of a Teenage Girl,
the diary-turned-graphic novel-turned-play-turned-film by cartoonist Phoebe Gloeckner that earned rave reviews at Sundance, is set to get a wider theatrical release later this month. Since Gloeckner is now a teacher at the Penny W. Stamps School of Art and Design at the University of Michigan (where she teaches
"comics, electronic books, digital painting, and all that crap"
), Ann Arbor's Michigan Theatre hosted a special advanced screening of the film followed by a Q&A on Thursday. While we contractually weren't allowed to review the film, we were allowed to share some notes from the Q&A.
When asked how the project got its start, Gloeckner said that soon after the book was originally published in 2002, she already started getting offers for a film adaptation. Gloeckner says one well-known director courted her pretty heavily, but the project dissipated when he presented his own ideas for a new ending.
"At one point he said something like, 'And I'll tell you what the ending's going to be — Monroe is going to marry Minnie," Gloeckner recounted. "Happily ever after."
Anyone familiar with Gloeckner's work would know that wasn't going to fly.
The quasi-autobiographical story is beloved by fans for the way its protagonist, 15-year-old Minnie Goetze, confronts the taboo of adolescent sexuality in an brutally honest way, losing her virginity to her mother's boyfriend, Monroe.
Gloeckner said after that she considered making her own adaptation, but was later approached by Marielle Heller, a much younger woman. "She wrote me a letter. She was so genuine and so into the book," said Gloeckner. "I didn't even really quite understand her relationship to it."
Gloeckner said Heller initially approached her about adapting
Diary of a Teenage Girl
into a play. "I was like, 'What — a musical?'" she said. "It just seemed so outrageous, so I stepped back and said, 'Knock yourself out, kid!'"
Gloeckner wound up being blown away by the play, so when Heller suggested pursuing a film, she said it was hard for her to say no — "although of course I was still nervous about it."
While Gloeckner has distanced herself from Minnie in interviews when explaining where she ends and her protagonist begins, it is remarkable to note that both her mother and daughters were present in the audience.
"The book itself was based on my own experiences," Gloeckner explained. "But all writers write about themselves in one way or another. You're not writing about yourself even if you're writing about yourself. You're writing for the whole world."
Gloeckner described her writing process as "kind of a schizophrenic process," adding, "What I hoped, in my head — she's anybody," she said. "She's not just a girl. She's a boy. She's an old man. She's an old woman. That's what any author or perhaps director hopes for — kind of a broader identification with the character that you've created."
Michigan Theatre executive director, Russ Collins, who served as the Q&A moderator, said that as a 59-year-old male, he identified fully with Minnie.
"A novel, to me, is an encapsulated world, something that a writer creates and hopes that people will enter and spend a long enough time to experience what is in the creator's head," Gloeckner said. "You want someone to lose themselves inside of it. My relationship to my favorite literature has always been that I feel like I am them."
She added, "So if you were Minnie, I am touched."
When asked about her humorous on-screen cameo, Gloeckner said that happened at the last minute while she was on set one day. "I didn't even know I was going to be in it," she said. "I was as surprised as I looked!"
One woman in the audience raised her hand and said she had a simple question. "Did you intend for this to be revolutionary? Or were you just telling your story? Because I think it is revolutionary to see female sexuality at a young age presented with no apologies."
"All I wanted to do was be honest," Gloeckner said. "I spent so much time destroying my words, anything that's the slightest bit disingenuous. If that honesty carried over to the movie, I'm happy."
The woman responded, "I think it's interesting that something that's so normal for many of us is something that's revolutionary."
"I'm so happy to hear you say that," Gloeckner said, and then paused. "Yes," she declared. "I meant it to be revolutionary."