Joey Adams has many admirable qualities. On the surface, he has good hair, but he's also an honors student at Michigan State University where he studies chemical engineering (damn).
He's also kind of cheeky. And we like cheeky.
So, it all started when Adams asked a girl on a date in the school cafeteria. The Rebuff Queen and object of Adams affection cooly asked for his dating resume. Sadly, the well-coiffured Adams didn't have one.
Oh, but now he does. And the gentry are losing their minds.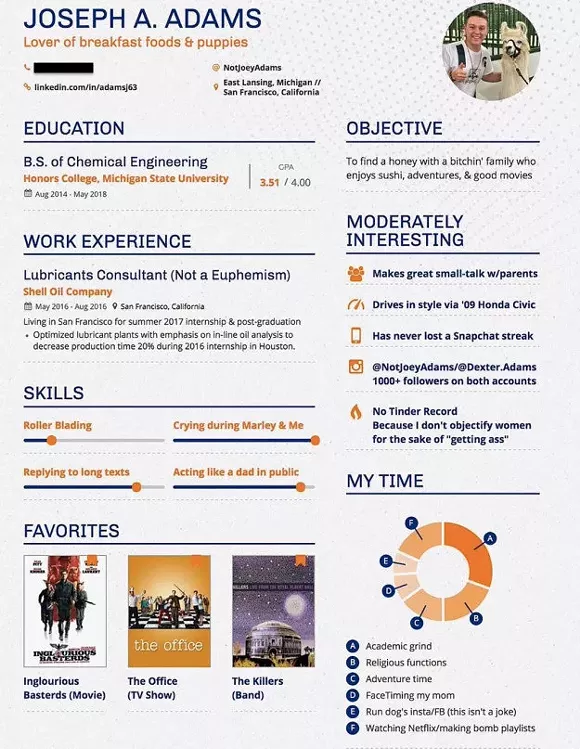 Buzzfeed
spied this work of art on social media and immedietly went to work writing a story about Adam's very engaging dating resume.
Since then the story has been picked up by the
Lansing State Journal
, WJBK, and Yours Truly, among others.
While Adams' taste in movies and music seems slightly sketch, we are down for his replying-to-long-text-messages skills and his objection to using Tinder for the sake of "getting ass."
BTW, he also worked at a "Lubricants Consultant" at Shell Oil Company (no, for real though) and has a 3.51 GPA.
Adams was interviewed on WJBK's The Nine this morning. When asked if he presented his now quasi-famous dating resume to the Rebuff Queen, Adams said he respected her decision and he wasn't going to bother her further.
But, other girls have taken notice.
"A lot of girls have contacted me since. I've gotten a few texts asking me to other formals/wedding dates, so this wasn't a lost cause," Adams said in an interview with
Buzzfeed
.