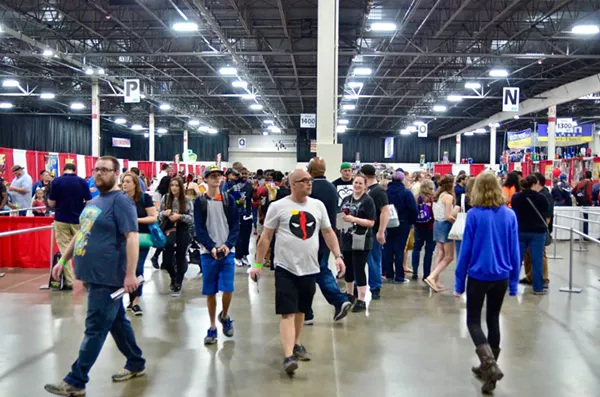 It's a new Golden Age for comic book fans, thanks in large part to the runaway success of Marvel's Avengers film franchise and assorted spinoffs. Case in point: The recently released Avengers: Endgame surpassed $2 billion in its second weekend, becoming the fastest film to do so and capping an 11-year, 22-film run. The nerds have had their revenge.
Of course, it's not just superheroes that are enjoying their moment in the sun. It seems that geekdom has taken hold everywhere — with the high fantasy of Game of Thrones dominating TV and a revived Star Wars also at the forefront in recent years. And let's not forget the books themselves, which have since evolved beyond spandex and capes to encompass all sorts of stories told in the graphic novel format.
As comic book culture has grown, so has the Motor City Comic Con, which is now celebrating its 30th year. The annual festival has become Michigan's largest and longest running comic book culture convention, returning to Novi's Suburban Collection Showplace. More than 60,000 geeks are expected to attend this year.
Michael Goldman, who founded the first MCCC at the Dearborn Civic Center in 1989 before it moved to Novi in 1994, says the fest owes its longevity to the fact that it has grown beyond just comics.
"Although founded on comic book culture, Motor City Comic Con has evolved into Michigan's largest and longest running multimedia pop culture event that includes comics, film, TV, horror, sci-fi, music and so much more," he says.
Of course, comic books will have a considerable presence at the fest, with more than 300 comic book creators, writers, and artists making appearances, and more than a million comic books for sale. Beyond comics, there will be more than 50 actors from TV and film making appearances (see our interviews with special guests Henry Winkler, Lori Petty, and Ethan Peck in this week's issue, just a sampling of the celebrities that are slated to appear). New this year is Geek Speed Dating, trivia, and a gaming room. Plus, there's plenty of people-watching to be had, thanks to the rise of cosplaying, where fans craft stunning costumes to transform themselves into superheroes. And with the Suburban Collection Showplace's recent 180,000-square-foot renovation, this year's MCCC is on track to be the biggest yet.
The 2019 Motor City Comic Con will be held from 12:30 p.m.-7 p.m. on Friday, May 17, 10:30 a.m.-7 p.m. on Saturday, May 18, and 10:30 a.m.-5 p.m. on Sunday, May 19 at the Suburban Collection Showplace. Tickets are $30 for ages 13 and up (except Saturday, which is $40), or $80 for a weekend pass. See full schedule at motorcitycomiccon.com.
Get our top picks for the best events in Detroit every Thursday morning. Sign up for our events newsletter.