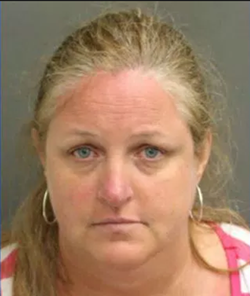 OK, so maybe Walt Disney World wasn't the most magical place on Earth on Wednesday night.
During the theme park's nightly fireworks display a New Baltimore, Michigan resident named Tabbatha Kaye Mature reportedly choked a teenage girl.
The reason why? The high schooler and her friends wouldn't sit down and Mature had just paid a small fortune to take her family to Disney World and she wanted to see the fucking fireworks from a seated position.
According to a story in the
Orlando Sentinel
, the girl and her friends left when they noticed Mature was becoming agitated. While leaving, the girl told Mature she and her family could take their spot.
Mature couldn't handle the teenage sass, so she reportedly wrapped her hands around the girl's neck and started to squeeze.
The girl started screaming, so Mature let go, but not before allegedly telling the teen, "You don't want to mess with me."
The teen was not injured, but she and her parents decided to prosecute anyway.
Mature was arrested and booked at Orange County Jail, but released on $2,000 bond. She is accused of child abuse. That's a felony.