Detroit native Kaylan Waterman said she remembers going to Black History Month events her whole childhood, and one thing always seemed to be missing: celebration.

Now, the 26-year-old is launching her own event in an effort to honor African-American achievement through the art of literature.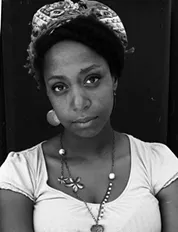 "I wanted to create something that would encourage the community to be able to
celebrate
Black History Month and not just focus on the oppression itself," explained Waterman.
And that something is
Kumbuka
, "a literary event designed to honor African-Americans in history by the audible reading of their spoken and written words," taking place on
Tuesday, Feb. 16 from 7:00-9:00p.m. at Jam Handy at 2900 E Grand Blvd
.
Waterman said, "[Black History Month] seems to lack that celebratory feel you see in other cultural celebrations," and with Kumbuka, which means "to remember" in Swahili, she wants to offer the community a chance to remember the past triumphantly.

At the event, a group of multi-generational African-American Detroit residents will read works they've selected by late African-American authors. Selections includes pieces by Richard Wright, Gwendolyn Brooks, Sojourner Truth, James Baldwin, Maya Angelou, and Langston Hughes.
"We're honoring authors that are no longer with us, almost as if to say, 'we're carrying the torch now,'" she said. "They were heroes in their times and made so many sacrifices so that we can enjoy the freedom that we have. It's a way to honor them so they're not forgotten."

Waterman, who plans to read a piece from Their Eyes Were Watching God author Zora Neale Hurston, said she chose a literary event because of the accessibility of the art form.

"If you have the ability to read — or even just listen — you can be moved by literature."
The event is free and open to the public. For more information, visit the event's Facebook page.