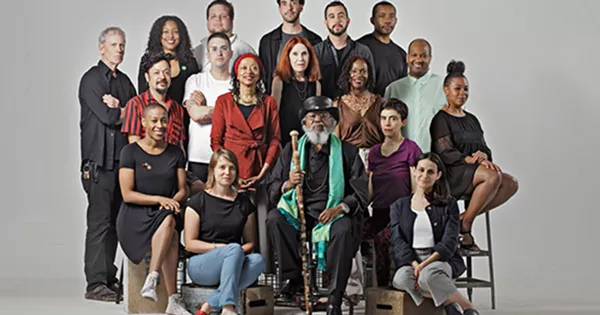 More than 750 local artists applied to be a 2017 Kresge Artist Fellow and to take home an unrestricted $25,000 prize, and today 18 winners were announced.
The group is a reflection of both up-and-coming artists in Detroit as well as those who have already spent many years affecting change with their work.
Twisted Storytellers founder Satori Shakoor, for instance, was named a fellow this year as was
sculptor Robert Sestok
.
Matthew Burdick, a 2009 College for Creative Studies grad who created a comic strip call "Pingree: Detroit's Best Friend" was awarded the Kresge fellow title as was sometimes-
Metro Times
contributor and art curator Taylor Renee Aldridge.
Metro Times
contributor Drew Philp, who recently penned the tome
A $500 House in Detroit: Rebuilding an Abandoned Home and an American City
is among the fellows as well.
Former
Metro Times
staffer and investigative reporter Allie Gross was also awarded a grant for her work in literary arts. Gross penned several immersive stories for
Metro Times
, including
"The Throwaways,"
a deep dive into the increasing violence experienced by trans women in Detroit and
Out from Under
, the story of a family fighting to win its home back from the Wayne County Auction.