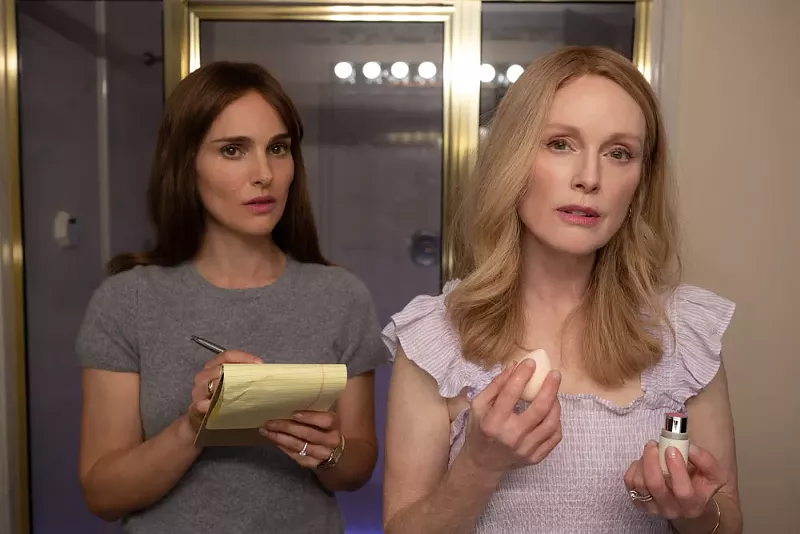 "You do it nicely, 'cause it really does matter how it looks." So says Gracie (Julianne Moore) to Elizabeth (Natalie Portman) in Todd Haynes's May December. Ostensibly, she's talking about arranging the maraschino cherries in a pineapple upside-down cake. But, spoken from the lips of a registered sex offender to the ears of a famous Hollywood actress in a sunny Savannah, Georgia, kitchen, there's bound to be something deeper underneath this basic baking tip. They're too peculiar a pairing in too abnormal a circumstance for her remark to be anywhere near surface level.
You see, they're making a movie out of a local woman's headline-grabbing affair with a middle school student, and Elizabeth is starring as the lead. Gracie is the inspiration for that role. This unassuming middle-aged mother with strawberry blonde hair plastered the covers of pulpy grocery store tabloids in the early 1990s. The cause of all the hubbub? Her criminal relationship with a seventh grader (and, later, the birth of her children with him). The couple — now married — has carved out a cozy niche amidst the antebellum homes and Spanish moss, away from the harsh spotlight of media frenzy. Now, in the opinions of those who'd rather not dwell on it, some uppity Hollyweird celeb has come to tear down the facade.
It's not surprising that Elizabeth's arrival has people nervous. It's been decades since what happened… happened. Why dig it all up again? While she'd never admit it to anyone but herself, this is undoubtedly Gracie's position. She and her husband Joe (Charles Melton) have established as much normalcy and security as possible for their family in the wake of such a controversy. Alas, as is the duty of any good (albeit kooky) housewife in the Hostess City of the South, Gracie welcomes her guest with open arms, tight lips, and a guarded attitude.
Whether it comes from the film's unsettling score, its jarring interludes with creepy-crawly close-ups, or all those backhanded pleasantries being exchanged, there's an energy that feels volatile in the world of May December. It was hard for me to shake the feeling that, at any moment, someone or something was going to blow. To some extent, this may be what daily life feels like in wealthy suburbs. It's beyond a small inkling, though. Past all the polite conversations, the fake smiles, and the please-and-thank-yous, Elizabeth's investigative digging into Gracie's troubled past starts to feel worse than bad manners. It feels dangerous.
As Elizabeth searches for the most honest angle to embody the role of Gracie, Gracie works to make sure it's never found. With not-so-subtle shades of David Lynch's Mulholland Drive and Ingmar Bergman's Persona — not to mention the urtext for this type of film, Alfred Hitchcock's Vertigo — May December takes what we know about the trope of the blonde/brunette doppelgänger and uses it to tell a story about telling a story. While Haynes's interests here are decidedly not as nightmarish as Lynch's or Bergman's (and far less twisty than Hitchcock's), he still explores the age-old idea of dark doubles through the visual motif of hair color (plus plenty of reflections, twins, and mimicry to drive the point home).
Haynes also toyed with this hair color thing in his 2015 Carol. The age gap romance, too. And yet, if ever there was an anti-Carol, it would be May December. Haynes traverses similar themes across both films, but the approach is much more lurid than languid this go-round. Forget about the gentle, literary aesthetic Haynes so beautifully brought to the pair of star-crossed lovers in midcentury New York. His latest offers the kind of outrageously brash take on sexual promiscuity more often found in a Lifetime movie. I don't mean to use that Lifetime label as an insult, either. Until recently, the network was one of the only places I could find shamelessly sensual, hilariously campy melodramas en masse. The tides are turning, however — and it's not just Haynes's doing.
From film historian Karina Longworth's recent deep-dive into the erotic thrillers of the '80s and '90s on her podcast You Must Remember This to the return of genre greats like Adrian Lyne and his underrated (and, I must say, unceremoniously dropped) Hulu release Deep Water, May December fits snugly into a growing trend. Right when I feared the subgenre dead, Haynes has used his auteur status to bolster the erotic thriller — and, in doing so, quenches modern audiences' very real thirst for sinister, seedy, seductive fare. It's one of his strongest, most intoxicating works to date.
To be clear, Haynes is not some provocateur hoping to resuscitate a sordid style of film for shock value alone. May December is more complex, more layered, more intelligent than that. Above all else, it's a titillating exploration of the nuances of truth. Elizabeth and Gracie, the film's doubles, can be seen as the two sides of the scandalous story. There's the version Gracie tells — her truth, no matter how honest or dishonest that may be — and there's the objective truth that Elizabeth seeks. The story being told and the reality of what actually went down are not the same. Cover-ups, threats, deception, bottled emotions … all come with the price of protecting some form of truth or another. Remember: when telling a life story, you do it nicely, 'cause it really does matter how it looks.
Subscribe to Metro Times newsletters.

Follow us: Google News | NewsBreak | Reddit | Instagram | Facebook | Twitter