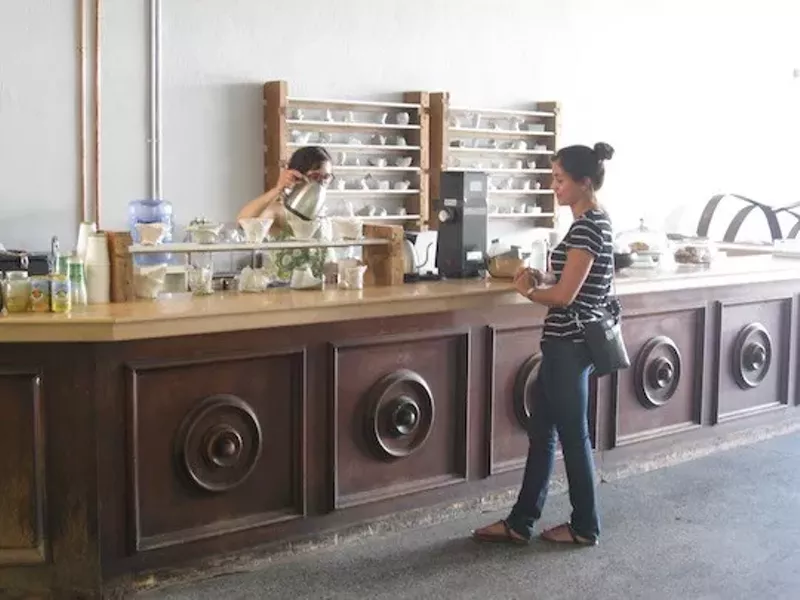 It looks like big changes are in store for Trinosophes, Eastern Market's coffee shop, art gallery, and performance space.
According to a Facebook post by co-owner (and former
Metro Times
arts editor) Rebecca Mazzei, the spot will close in August so she and Joel Peterson can "renovate and re-invent the space."
"Over the past few months, Joel and I have thought long and hard about how and where we want to focus our energy," Mazzei writes. "While we have had the opportunity to program some amazing events, bringing in international artists on the regular, and celebrating local greats, we find ourselves putting about 120 percent into the cafe. If Trinosophes is supposed to truly reflect who we are and what we want to do in this community, we need to shift our focus."
When Trinosophes reopens, Mazzei says the café part will be under the management of Warda Patisserie's Warda Bouguettaya, who will offer her baked goods "and more, as she grows."
"She is the first collaborator we have come across who envisions a future with us," Mazzei writes. "She truly appreciates and supports what we are trying to do, and doesn't want to change that, but only enhance it. She's also a big part of the reason why we have made this decision."
No firm reopening date was set, but Mazzei writes it is expected to be sometime in the autumn. "We are excited about what is going to be possible in Trinosophes this fall," she says. "You all better come hang out with us every day... Maybe we will actually have time to SIT DOWN and drink a coffee with you."
Trinosophes is located at 1464 Gratiot Ave., Detroit. Mazzei's post is below.
So many restaurants, so little time. Sign up for our weekly food newsletter delivered every Friday morning for the latest Detroit dining news.