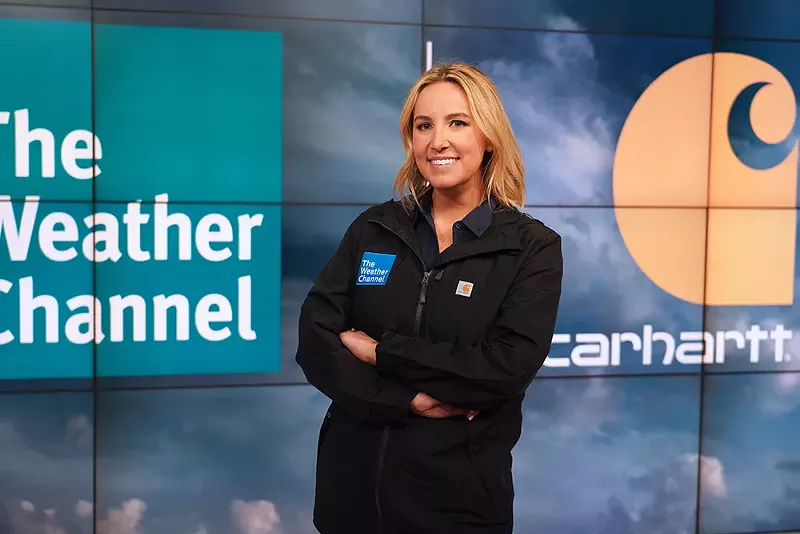 Reporting the weather is now officially considered real "Carhartt shit."
The Weather Channel announced Tuesday that it has made a deal with the 134-year-old Dearborn-based workwear company to outfit its on-air meteorologists when they report live in the field during extreme weather events.
Starting the spring, the TV network's 30 or so reporters will sport Carhartt-branded gear designed to protect them against the elements, including insulated jackets and vests and Carhartt's "Rain Defender" pants.
"As America's most trusted news brand, our meteorologists are often out in extreme weather conditions, delivering life-saving reporting," said Nora Zimmett, President of News and Original Series for Weather Group, in a statement. "This new collaboration between The Weather Channel and Carhartt brings together two brands that know how to tough it out in difficult conditions to keep Americans safe and comfortable."
"As the world's premium workwear brand since 1889, Carhartt has always been a brand for all hardworking people that endure varying weather conditions on the job," said Susan Hennike, chief brand officer at Carhartt. "Meteorologists in the field experience some of the most extreme weather conditions imaginable, and we know that many people rely on meteorologists to inform them about the gear they wear while working outside. Partnering with The Weather Channel is a natural fit to not only keep meteorologists protected from the elements, but to showcase hardworking gear performance in its most natural element: outside and in the field."
Amateur meteorologists — or anyone who ever has to do Carhartt shit outside — can shop for all the designs featured on The Weather Channel at carhartt.com.
Coming soon: Metro Times Daily newsletter. We'll send you a handful of interesting Detroit stories every morning. Subscribe now to not miss a thing.

Follow us: Google News | NewsBreak | Reddit | Instagram | Facebook | Twitter