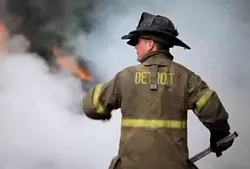 Burn | B+
There is a point in Tom Putnam and Brenna Sanchez's excellent documentary Burn when one of their subjects describes Detroit as "Katrina without the hurricane." When a city loses more than half its population and just as many businesses over 50 years, there's a lot of empty real estate. And beyond the vacant and decaying houses, whole neighborhoods become tinder waiting to burn. This is the landscape that the overworked and seriously underpaid men of the beleaguered Engine Co. 50 face every day.
For one turbulent year, the filmmakers were embedded with the brigade, getting a front-seat view of their professional and personal lives — and the fires and bureaucracy they are forced to fight. At first the doc seems to be an adrenalized case of hero worship with its bro-banter and gung-ho subjects. But the dynamic on-the-fly scenes of danger and chummy stationhouse camaraderie are slowly peeled away to reveal a fascinating and multigenerational portrait of loss, resiliency, frustration and regret.
Though there is little doubt that these dedicated men love their job, it's a job that doesn't necessarily love them back. Not only do you sense the futility of putting out flames in a city that seems to be permanently on fire (Detroit gets up to 30,000 calls per year), but you witness the dangerous deterioration of their equipment and the fallout of the city's wrecked economy affecting their jobs and safety. Rigs go unserviced, gear is held together by duct tape, and many of the men haven't seen a pay raise in more than a decade. Worse, they must endure the near-constant political assault on public sector workers and their unions. You know things are bad when you're watching Detroit's new fire commissioner, Donald Austin, vacuum his office because the department can't afford janitorial services. Any misgivings you might have for Austin, who, at first, comes off as just another tone-deaf outsider (who ignites controversy with his let-it-burn policy), is offset by the impossibility of his task and the obvious seriousness with which he approaches that job.
And Putnam and Sanchez's doc digs deeper than Engine Co. 50's dire political and professional situation. Burn also explores the personal lives of the men. There's 10-year veteran Brendan "Doogie" Milewski, an eager and highly physical guy who became a firefighter immediately after high school, married the girl of his dreams and now fights depression and a loss of identity after being seriously injured when a brick wall collapsed on top of him during a blaze. Melancholy also hangs from the words of field engine operator Dave Parnell, whose life has been defined by two things: his 32 years as a fireman, and his loving wife, who has been struck ill. When he loses his beloved Gloria halfway through the documentary, it hits home how alone this gently affable and eminently decent man will be after his imminent retirement.
Visually, Burn stands out as the first documentary film to take viewers inside of flaming buildings. Outfitting the firefighters with HD video cameras and using a fish-eye lens, the movie captures some astounding images. These montage-driven fire scenes, which pop up repeatedly throughout the film, are both scary and enthralling, adrenalized by a first-rate rock soundtrack (that, of course, includes local legends the Stooges). But there's probably one or two too many, and with the pummeling accompaniment of Iggy Pop (among others), the fiery destruction starts to feel a bit like a pyrotechnic music video.
Sharp and intense, Burn both celebrates and commiserates with Detroit's firefighters as it balances character-driven drama, kinetic action and larger societal implications — all in a amazingly succinct 85 minutes. Then again, when documentarians encounter 21 fires in the first two days of their year-long shoot, they undoubtedly learn a few things from their subjects about getting in and out before anyone gets hurt.