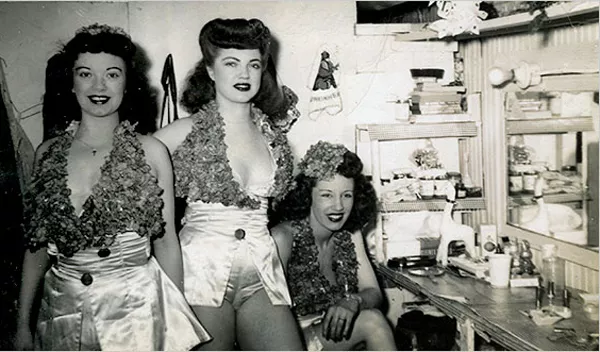 Behind the Burly Q
GRADE: A-
Burlesque is about the tease, but this fast-moving yet bittersweet documentary about the golden age of peek-a-boo gets right down to the business of uncovering the trade's dirty secrets. The quaintly bawdy art form, which thrived from the 1920s to the mid-'60s, was a traveling hybrid entertainment revue, which one talking head calls vaudeville "with bare bosoms and chorus girls."
Bells and whistles aside, the girls were the star attraction, and the film trots out some of the era's leading ladies, such as Blaze Starr, Tempest Storm and Dixie Evans, who dish on the comics, celebrities, mafiosi and even politicians (JFK got around it seems) who frequented their shows and dressing rooms. These feisty old gals still cling vividly to the backstage catfights and bitter rivalries (apparently nobody could stand Gypsy Rose Lee) of decades past, and also the joys and heartaches of their frantic lifestyle. Some of the most insightful comments come from an unlikely source, famous nice guy Alan Alda, whose father Robert toured the circuit as a comedian. If the film is too scattershot and disjointed to be definitive, it is a nice primer on the vintage age of va-va-voom, and when your girlfriend wants to take a pole dancing exercise class, you'll know which pioneers to thank.
Showing at the Detroit Film Theatre (inside the DIA, 5200 Woodward Ave., Detroit; 313-833-3237), at 4 p.m. on Saturday, Oct. 9. Director Leslie Zemeckis to introduce this screening in person.