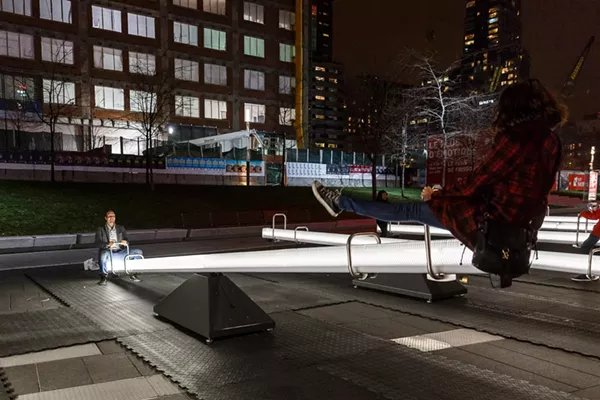 What do see-saws, live music, and
Back to the Future
have in common? They're all part of the festivities to herald the opening of a new community space in Detroit.
Located on Cass Avenue and Grand River and operated by DTE Energy and the Downtown Detroit Partnership, Beacon Park opens to the public on Thursday, July 20. A weekend's worth of free activities are scheduled through Sunday, July 23.
Arguably the coolest aspect of the new park is an art installation called Impulse. Devised by Quartier Des Spectacles, Impulse is a set of illuminated see-saws that emit sound and light when users sit astride them. The light and sound emissions quicken or decrease depending on the riders' pace.
The see-saws are similar to an installation that came to Cadillac Square last April. Appropriately titled
The Swings
, the interactive display put a whimsical spin on the playground staple.
Impulse won't be a fixture at the park, though. The traveling installation will move to another city after Aug. 27.
The Park — which is meant to "bring light, energy and motion to west central downtown," according to a press release — will have a restaurant and a central lawn with walking paths radiating away. The 1.5 acre park will have outdoor entertainment stages, bike parking, and other amenities. DTE and DDP anticipate it will attract one million visitors a year, and they promise it will spur further economic development in the city.
Thursday activities include a ribbon-cutting, an "after work party" with happy hour specials, and live music by Robert Randolph and the Family Band.
Friday Come Play Detroit will host competitive games among park-goers, there will be a beer garden with Griffin Claw and other local craft beers, and Lord Huron will perform at 8 p.m.
Saturday Yoga Mala will host 108 Sun Salutations starting at 9 a.m. followed by a family day with games, inflatable, and other kid-friendly activities. From noon to 11 p.m., the Night Market will feature craft beer and cocktails as well as a hub of local makers offering unique shopping options. Plena Libre and Bombarica will perform.
Sunday there will be yoga, a gospel brunch, and live classical music in the morning and afternoon. The weekend of activities will come to a close as the Michigan Philharmonic performs as a lead up to a screening of Back to the Future.
For a full schedule of events with times
click here
.