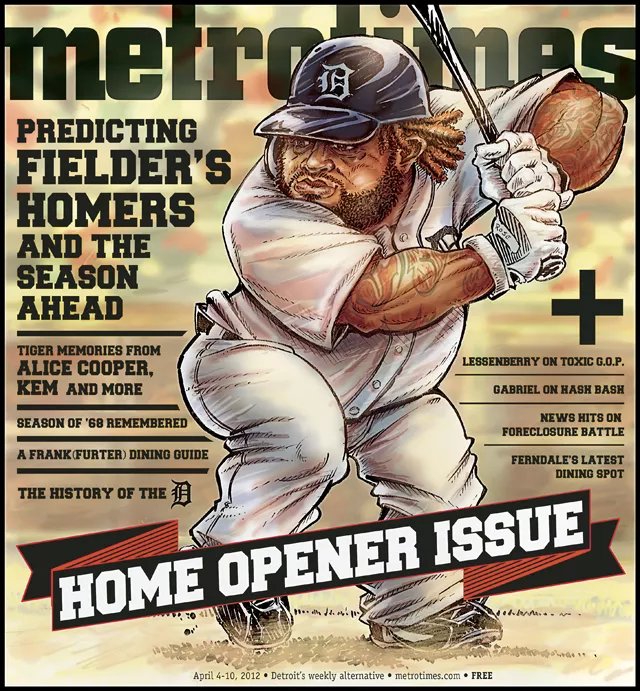 "I love it when a plan comes together." Well, maybe this is not how we or anyone in the Detroit Tigers organization envisioned the road to the World Series, but they have achieved that goal nonetheless. Underachievers for much of 2012, the Tigers were three games out of first place in the weakest division in baseball on Sept. 17. And while the Tigers relied heavily on the collapse of the Chicago White Sox to win their division, they have since shown they belong. The Tigers made their way through a tight series with the Athletics and surprised everyone by dominating the Yankees in a four-game sweep. The reason why is clear: pitching. The Tigers' four starters: Justin Verlander, Doug Fister, Anibal Sanchez and Max Scherzer have combined for a 1.02 ERA in the postseason.
Some might argue with the best pitcher (Verlander) and best hitter (Miguel Cabrera) in baseball, of course they should be in the World Series. But many teams have superstars and fail, what brought the Tigers to the point and might make them World Champions will be a total team effort. Whether it be for their loyal fan-base, aging owner, or beleaguered city, the Tigers will bring this one home.
Now to look back at what some of you saw in your crystal balls back in April. Overall: Alan Madlane of Hamtramck was closest to correct on predicting the season record. The Tigers finished 95-67 last year. Madlane predicted 87-75 this year, darn close to the actual 88-74. He also predicted the close AL Central Division Race, which the Tigers won by three games over the White Sox.
No one predicted who the Tigers will face in the World Series. —Casey O'Neil (with Dennis Shea)
Will the Tigers finish with a better or worse record than in 2011 (95-67)? REALITY: Worse, 88-74
I think this team has the "potential" to win 100 games. I also think KC is better than last season, but the division as a whole is bad. I'll say Detroit wins slightly less (93) if they stay healthy. Last year they were fortunate with their health and I'm not sure that can continue —Matt Shepard, 1130-AM, The Fan
They finish 96-66. Prince Fielder only replaces Victor Martinez's lost offensive production, meaning he's good for basically maintaining last year's pace (and attracting fans). The additional win comes from Brennan Boesch and/or Alex Avila having a very good year at the plate. —Bill Shea, reporter, Crain's Detroit Business
If Verlander has a better year, the Tigers have a better year. I think they'll have a better record this year, although they came within two 2 games of a pennant last year. —Celeste Headlee, former co-host, The Takeaway
I think they'll finish with a similar record to 2011. To win more than 93-97 games requires a team to catch lightning in a bottle and that's a hard thing to predict. —Jeff Wattrick, staff writer, Deadline Detroit
Tigers record will, perhaps paradoxically, be a bit worse than last year's, at 87-75. —Alan Madlane, reporter, The Hamtramck Review
I say better. I will give them 100 wins even for the season. —John Bennett, Detroit Police officer and blogger
I'm pretty optimistic for this season. They will have over 100 wins. —Danny Methric, guitarist and vocalist, the Muggs
Better by two or three. —Devin Scillian, Local 4 news anchor
Better ... but not by much. —Craig Fahle, host of The Craig Fahle Show, WDET-FM
A hundred wins, 61 losses and one tie (A tie. Why not?) This will be a memorable season for the Tigers. —Charlie Langton, legal expert and 1270-AM radio host
Will the Tigers dominate the division (AL Central), barely win the division, have to hope for a wildcard spot, or not make the playoffs at all? REALITY: They barely won with three games over the Chicago White Sox
They are good enough to win the division. Because of their pitching, I think they are the best team in the American League, but the best team doesn't always win the league (St. Louis 2011 and 2006). I do think they have a good enough mix to win it all with their stiffest competition coming from Texas and Angels. —Matt Shepard
They still manage to win the AL Central by 4 over the resurgent White Sox and by 6 over up-and-coming Cleveland. Minnesota rebounds a little, KC isn't horrible, and our record against all other AL Central teams is only about .545. —Alan Madlane
The Tigers will run away with the Central Division, not even close. —John Bennett
The Tigers will dominate. The rest of the Central has the potential to be pretty weak. —Craig Fahle
WIN!!! FOR SURE. —jessica Care Moore, poet, creator Black Women Rock
If you predict that they'll make it to the playoffs and get past the divisional series, who will they face in the ALCS? Will they advance to the World Series? REALITY: They best the Yankees in ALCS.
Tigers will top the Yankees for the ALCS. Yankee fans will be asking themselves why don't we have Austin Jackson? Yankees fans will ask why did we ever give up Austin Jackson? —Charlie Langton
They'll face the Texas Rangers in a repeat of the 2011 ALCS, and this time should win it. In seven thrilling games too. —Bill Shea
Never bet against the Yankees to make the playoffs. Where they seem to lose to the Tigers. —Craig Fahle
If they make it, who will they face in the World Series? Can they beat them and win it all? REALITY: They'll face the San Francisco Giants.
My fantasy match-up is the Tigers against the Phillies. A real Rust Belt Series. The Phillies have an incredible lineup in batting and some strong pitching but for two years in a row they haven't been able to close the deal in the postseason. So the Tigers would have a chance. —Celeste Headlee
My dream World Series match-up is Detroit-Philadelphia, so I'll predict that. What the hell, I'll say Tigers win in six. —Jeff Wattrick
Phillies vs. Tigers in World Series. Phillies would be favored, but what the heck — let's take the Tigers in 7. —Devin Scillian
Last year Verlander won 24 games. How many over or under 24 will he win in 2012? Or will he tie last year? REALITY: Under at 17-8.
Justin Verlander had one of the greatest seasons in history for a pitcher. ... No, he does not equal or surpass 24-wins. I'll say 21 (team has too much offense for him not to be close to 20, but can Valverde really be perfect again?) and in the mix for another Cy Young Award. —Matt Shepard
Verlander wins 19, goes 19-11. —Alan Madlane
He will be under this year, I say two under last year. He will win 22 games only because the bullpen will blow a few. —John Bennett
Under by two (22). —Devin Scillian
He'll win 19; five under. —Craig Fahle
He'll tie. —jessica Care moore
Justin Verlander will win 29 games ... 1 for every year of his age. —Charlie Langton
How long will Cabrera last at third base? REALITY: All season.
Cabrera isn't a great third baseman, but I don't think he's the liability people think. He has a career .951 fielding percentage at third. The league average is .955. His range factor/9 is 2.55 and the league average is 2.70. I think those defensive numbers are sufficient to ensure a bona fide triple crown threat if he keeps his job at third for the entire season. —Jeff Wattrick
Until he botches a routine play that costs Verlander a victory. It would be easy to make a Happy Hour/Townsend Hotel joke here, but he's behaved himself so far, so let's cut him some slack. —Bill Shea
Jim Leyland is stubborn. Cabrera will play third base the whole season unless he gets hurt or unless Fielder gets hurt at first base, in which case Cabrera will play first base. —John Bennett
We'll put up with the shortcomings all year, except for late game defensive substitutions. It'll be worth it because he and Fielder are going to make it look like batting practice this year. —Devin Scillian
Not long. I predict he will blow it out there. —Celeste Headlee
He'll make it the full season. —Craig Fahle
Prince Fielder had 38 home runs last year. How many home runs over or under 38 will he score in 2012? Or will he tie last year. REALITY: 30 homers.
On paper, the Tigers' lineup is as potent as any in baseball, and Fielder should at least match his home run output. With Cabrera hitting in front of him, and Delmon Young after him, he could hit 40 or more homers for the first time since 2009. His career-high of 50 in 2007 is certainly possible. —Bill Shea
Personally, I'd like to see him hit at least 52 homers in the Old English D. Just to stick it to his old man. But I'll settle for 40. I think he's got a 40-home run season in him. —Jeff Wattrick
Fielder hits 31, as he has to learn all the new pitchers in the new league. —Alan Madlane
Fielder will hit 40 dingers, mostly on the road. —Danny Methric
He'll be two over! —jessica Care moore
Prince will hit 33 homers — five less. —Craig Fahle
Prince Fielder will hit 214 home runs — one for every million dollars of his contract. —Charlie Langton
Will Brandon Inge still be a Tiger in the fall? REALITY: No.
Yes, but he may get to take another all-expense-paid trip to exotic Toledo at some point. It's possible he could be traded under some bizarre circumstances that I cannot quite imagine, but Detroit would have to agree to eat most of his $5.5 million salary for that to happen. If a petulant attitude erupts, he could get his outright release, but for now he's insurance in case Cabrera is a total bust at third. Odds are, he'll be on the roster in the fall, to the delight of pundits and sports talk radio callers across the region. —Bill Shea
My hat is off to Inge. I've watched him play for years and he's always been a dedicated, reliable Tiger. But he's not looking good in spring training and I think he won't play in the fall. —Celeste Headlee
Brandon Inge will not be a Tiger this fall. Brandon Inge will not be a Tiger by the all-star break. If Jim Leyland weren't so stubborn, Brandon Inge would not be a Tiger on Opening Day. —John Bennett
Brandon Inge will not be with this team in the fall ... not sure he'll be with this team in the spring or summer. —Matt Shepard
Inge is back from another stint in Toledo on Sept. 1. —Alan Madlane
Alas, I fear not. —Devin Scillian
No. —Craig Fahle
Thanks to everyone who peered into the future for us.