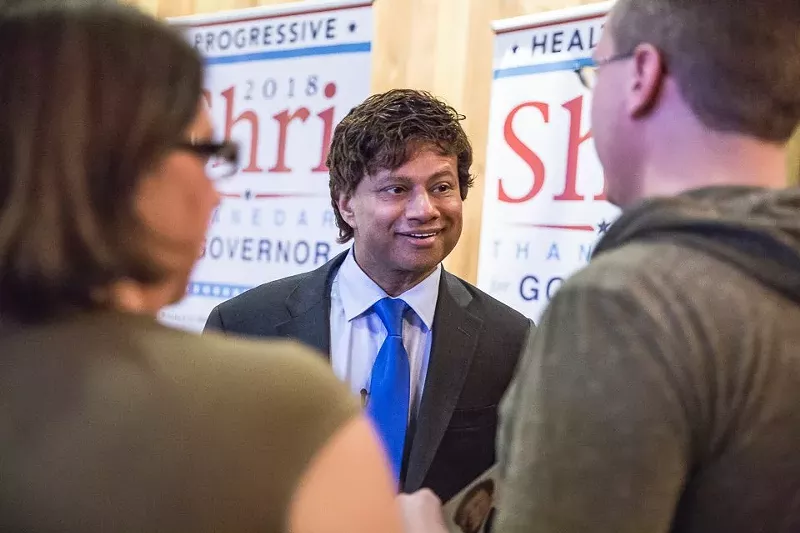 Democratic gubernatorial candidate Shri Thanedar detailed his rags-to-riches life story in a 2008 memoir,
The Blue Suitcase: Tragedy and Triumph in an Immigrant's Life
, in which he recounted growing up lower middle class in India to becoming a wealthy businessman in the United States. While
a Bollywood director
was at one point reportedly tapped to make a film based on the book, that project appears to have gone nowhere. Now, however, Thanedar's story is set to come to the stage as a live production.
Adapted by playwright Jack King, the stage version of
The Blue Suitcase
will make its world premiere on Friday, July 13 at Detroit's Senate Theatre (6424 Michigan Ave., Detroit). Performances are scheduled at 5 p.m. and 8 p.m., and tickets are available
here
.
"It is a true life story and journey of a simple immigrant's road to achieving the American dream," King says in a press release. "Shri arrived in America with $20 to his name and his blue suitcase. The audience will leave the theatre inspired by the story of Shri's hope and courage."
In a sit-down interview with
Metro Times
earlier this year, Thanedar elaborated on his life story:
I came with $20 in my pocket when I came to the U.S. Actually, I had $16, because I had a couple of beers on the plane. But I came with a big dream. Where I was growing up, my family was in poverty. I worked as a janitor in high school. I didn't know where my next meal was going to come from. Many a nights we went hungry, and there was one night actually I remember my mom had nothing to feed us — four girls, two boys, and my dad. All she did was boil the pot of water, threw a little bit of salt in it, and she had two fistfuls of rice powder and she threw it in there and she made a paste of it and fed all of us.
Thanedar went to purchase a lab called Chemir Inc. with a $75,000 loan in 1991. By 2009, the company had an annual revenue of more than $60 million.
As a gubernatorial candidate, Thanedar
enjoyed a bump in the polls
following a TV spot aired during the Super Bowl, but
a new poll
released by Michigan Information & Research Service shows Democratic opponent Gretchen Whitmer surging past him at 40 percent, with Thanedar and fellow Democratic contender El-Sayed at 19 and 17 percent, respectively.
Michigan's primary will be held on Aug. 7.
Get our top picks for the best events in Detroit every Thursday morning. Sign up for our events newsletter.