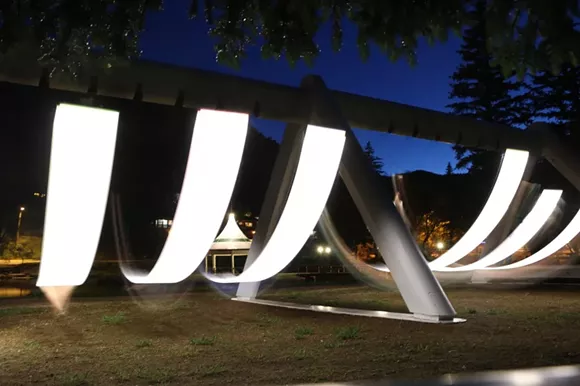 Life just got a little more dreamy in Cadillac Square. A set of musical swings, appropriately called The Swings, have been set up inside the public park and metro Detroiters are being called to create melodies together on this giant, interactive instrument.
The Swings were created by a Montreal-based interactive design studio called Daily tous les jours and the original set of 21 swings has been set up in the Quartier des spectacles area in Montréal, where every day each swing has swung an average of 8,500 times.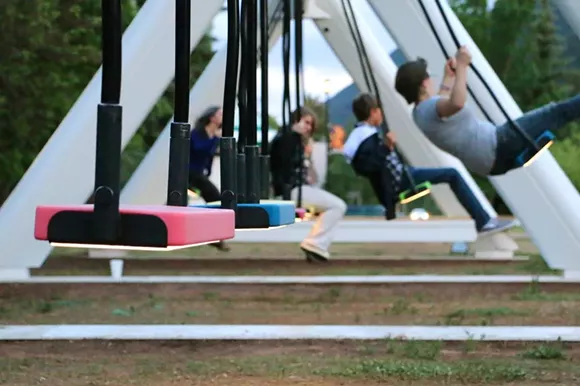 Sadly these Swings, a set of 10, won't be a permanent fixture in Cadillac Square. Detroit is one of only three stops they'll make in the United States, which is pretty cool. They officially opened to the public on Thursday, April 7 and will remain open until May 8. Folks are welcome to swing from 11 a.m. to 10 p.m every day.
According to Daily tous les jours' website, "the Swings allow participants to make music with their entire bodies, to connect to one another and to have a sense of ownership of public space due to the music they create. The result is a giant collective instrument that brings together people of all ages and backgrounds."
Each swing makes the sound of a guitar, piano, vibraphone, or harp and riders can create can make harmonies by swinging in synch.
If you want to learn more about The Swings you can watch the video below.
The Swings: An Exercise in Musical Cooperation from Daily tous les jours on Vimeo.