Cover of the October-November 2009 Cass Rag, drawn by "Elle."

HEARD OF THE underground publishing explosion? You know, the one that began in the late 1960s and churned out tens of thousands of passionate, self-made, low- and no-budget publications for a generation? The scene hit its zenith around the mid-'90s, with the rise of a "zine" scene that challenged that day's stodgy and unimaginative "periodicals."

But with the advent of the Internet, a lot of that do-it-yourself activity had gone online, the little journals of quirky commentary, humor and screeds replaced by blogs and website. By 2000, even hardcore zinesters were saying, "zines are dead."

But if zines are dead, why do we still get them mailed to our office each year? See, zines aren't dead; they've changed. The Internet has drained away a lot of the low-wattage chatter, and zinesters are getting craftier, embracing the tactile, personal nature of printed objects.

And zinesters seem more committed than ever to providing content that's tied to a locality. Though the Internet has made it easier than ever to find the political rant of your choosing or the lowdown on some foreign obscurity, there's one thing the online world doesn't do very well, or very often: neighborhood-level coverage.

And that's something zines do pretty well, actually.

Take the latest entry in the Detroit zine market: Cass Rag. We found the inaugural issue just lying around here at the office and got curious. We reached the zinester via e-mail and got this response:

I started it as a newsletter for my neighborhood, which places a large focus on entertainment, as well as including relevant neighborhood information. I am in the process of making it a bimonthly publication, complete with contributions from friends, neighbors and local businesses. Each issue will feature an interview with an owner or employee of a neighborhood small business.

True to word, the zinester was kind enough to send the second issue, and it's a hoot. First off, it's a charming 32-page issue with a cut-and-paste layout of typewriter-style text. Yeah, there are some old zine standbys here (a how-skanky-are-you quiz, a joke ad, some horoscopes and a few other parsimonious bits of "filler."

But where else, short of Metro Times, are you going to read an interview with the dudes at the Marcus Market? And since it's all local, even the humor pieces have references to neighborhood joints like the Bronx, Motor City Brewing Works and the Old Miami. Best of all is the editor's statement that this "is supposed to be a neighborhood newsletter, not my personal diary." Hear, hear!

Curious? Want to take a look for yourself? E-mail the zine at [email protected] to find out how to get one.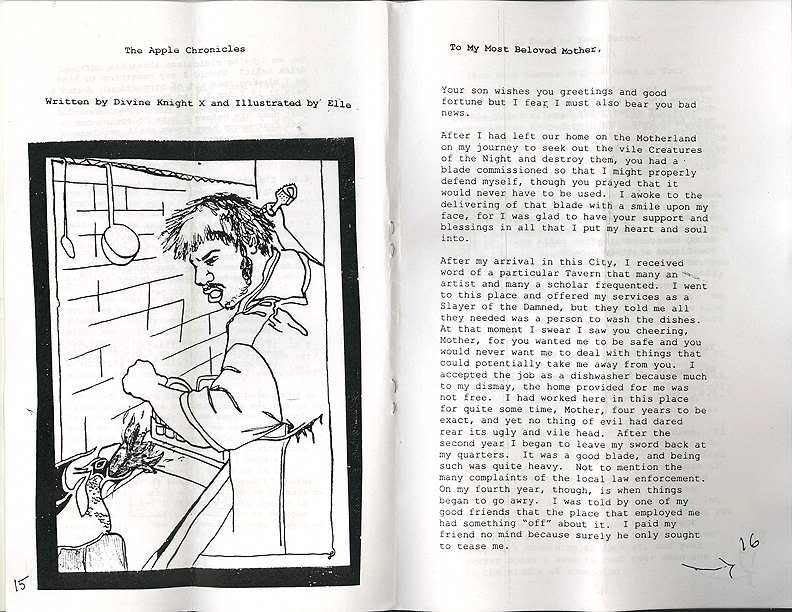 An illustration from "Elle" accompanies a story by Divine Knight X in Cass Rag.