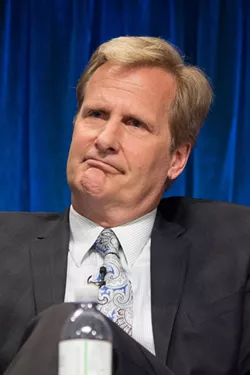 Today, Feb. 19 is the day of actor, musician, and playwright Jeff Daniels' birth. Huzzah!
In honor of the Michigan native's special day, we thought we'd play a game we like to call "10 things you maybe already knew about Jeff Daniels, but, hey, maybe you didn't." Here it goes!
1. Daniels was actually born in Athens, GA. His family re-located to Chelsea, Michigan when he was six weeks old.
2. His father was once the mayor of Chelsea.
3. He was told that taking the role of Harry in
Dumb and Dumber
would ruin his career.
4. The studio that made
Dumb and Dumber
allegedly offered him $50,000 to play Harry. They offered Jim Carrey $7 million to play Lloyd.
5. Daniels married his high school sweetheart in 1979. They're still married.
6. He played Anna Paquin's dad in
Fly Away Home
. Less than 10 years later the two filmed a sex scene together for the 2005 flick the
Squid and the Whale
. Kinda gross, guys.
7. He's pretty tall (6'3")
8. The Purple Rose Theatre got it's name from the Woody Allen movie Daniels starred in,
The Purple Rose of Cairo
. Michael Keaton was originally supposed to play Daniel's role in the film, but after a couple weeks of filming Allen decided he wasn't right for the film, casting Daniels instead.
9. He's reportedly worth $45 million. Not bad, Jeff!
10. When starring in
101 Dalmations
, the crew rubbed his face with raw hot dogs so the puppies would lick him.