So, last night Gov. Rick Snyder released 274-pages of emails that his office had sent in 2014 and 2015 about the Flint Water Crisis.
Once people got past the somewhat absurd first email — that was completely redacted — they were given a first hand view of what was going on behind the scenes in Lansing.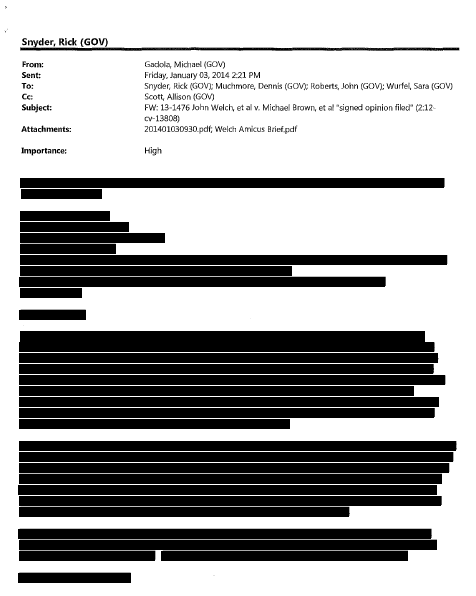 HA! In a dream world. As Motor City Muckraker
points ou
t there are some pretty eye-brow raising gaps in the emails we've been shown.
"From early June 2015 to mid-September 2015, there are no e-mails, even though two independent tests were published during that time, showing elevated levels of lead and other health hazards," writes MCM.
We're not going to jump to any conclusions, but this is, well, pretty odd. And as MCM points out, Gov. Snyder (and his office) are exempt from FOIA law — a weird and unique quirk to Michigan. This essentially means the email dump he gave us is it. There is no way to actually check and make sure everything was included.
What else is odd about the emails? Well...
The name most are zeroing in on post email dump is Andy Dillon, Snyder's treasurer, who resigned in October 2013. In a pretty snide September 2015 email from Gov. Snyder's former chief of staff Dennis Muchmore, Dillon is called out as being the ultimate decision maker in the choice to switch Flint's water source to the Flint River.
"I can't figure out why the state is responsible except that (state Treasurer Andy) Dillon did make the ultimate decisions so we're not able to avoid the subject," Muchmore, who retired at the end of last year, wrote on September 26, two days after a second study showed elevated lead levels in Flint's water.
Dillon's interactions with Flint, the Governor and Emergency Managers are somewhat opaque, however, since Gov. Snyder only released emails from 2014 and 2015, and decided, for some reason, to leave out emails from 2013 when the actual decision making was happening.
Ultimately the emails did point out that Gov. Snyder knew about what was happening in Flint as early as February 2015; however, it's still somewhat hard to get the full picture since A. Gov. Snyder's personal responses that he included in this data dump are so brief and limited (only seven). B. He only released emails from 2014 and 2015 — leaving out emails from 2013 when a lot of the decision making was happening. C.While it does matter when Gov. Snyder knew, it also doesn't. Flint was under state control. As the Mr. Boss man he is accountable for what's happening in a state-controlled city.
Anyway, you can read all the emails
here
or below (we tried embedding the PDFs so crossing fingers our digital skills are up to snuff). Also
check out
the MCM's blog post on the five most disturbing revelations from the email dump ... good/depressing stuff.