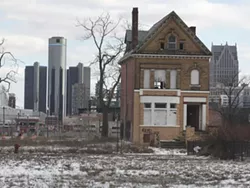 Last September, Detroit's emergency manager heralded the announcement that a combination of public and private funding totaling $300 million would be made available to combat the pervasive blight problem overwhelming Detroit.

Back then, U.S. Housing and Urban Development (HUD) Secretary Shaun Donovan acknowledged the monumental task facing Detroit civic leaders in combating the estimated 78,000 dwellings in need of razing and said the federal government would bring its resources to bear.

"The president is committed to the future of Detroit," Donovan said at the time. "We believe this will be the greatest comeback story in the history of American cities." In that commitment, Donovan pledged $150 million by the administration to fight blight, saying that the overwhelming consensus by community leaders was that blight must be a top priority. One item the HUD secretary mentioned that day was the creation of a blight task force, charged with putting together a plan to tear down abandoned buildings.

Within 60 days of that declaration, and in coordination with city, state and federal agencies, as well as private developers, the new blight task force is beginning its task of developing the most comprehensive database of deteriorating and abandoned structures in Detroit's history.

In coordination with Data Driven Detroit, the number-crunching affiliate of the Michigan Nonprofit Association, the Blight Task Force announced it expects to begin training survey teams this week. Beginning in December, those teams will fan out across the city's hardest-hit areas to assess the condition of the numerous parcels that are waiting to be declared unfit for habitation.

"It's unprecedented," Erica Raleigh, acting director of Data Driven Detroit, told The Detroit News. "We're going to leave some incredible information for the city and ability to update that over time."
While the initiative has been in the works since last fall, the training and surveying marks the Blight Task Force's inaugural launch. The three-member task force is made up of Glenda Price, president of the Detroit Public Schools Foundation, Quicken Loans founder and chairman Dan Gilbert and Linda Smith, executive director of east side nonprofit U-Snap-Bac. Members are expected to deliver their recommendations by year's end to Detroit's chief land officer, Roy Roberts.

The first six areas to be surveyed include the Jefferson-Chalmers, Morningside-East English Village and Grandmont-Rosedale neighborhoods, some North End communities, and near Marygrove College and the University of Detroit Mercy.