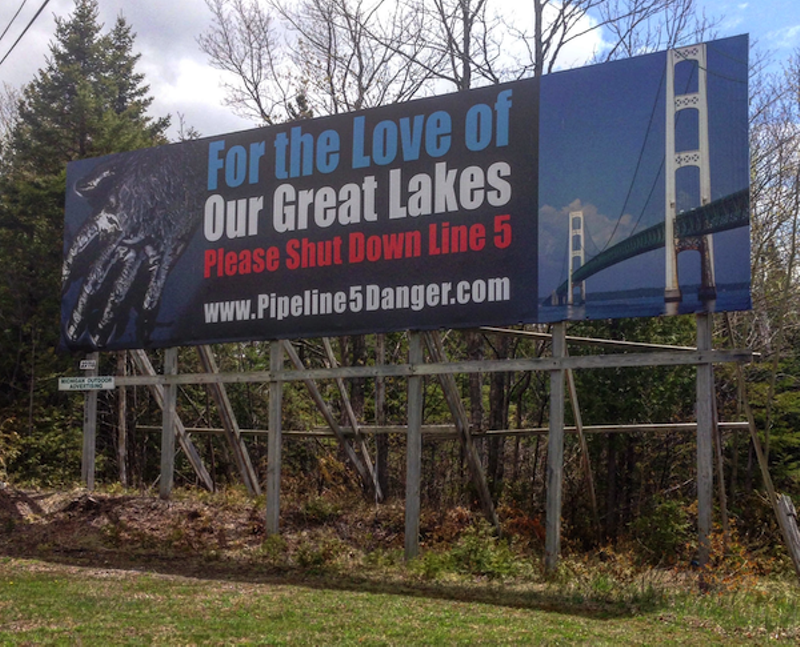 Michigan Attorney General Bill Schuette
released a statement
today calling for a timeline for the closure of Line 5,
the controversial gas and oil pipeline
located at a critical juncture under the Straits of Mackinac, following the review of a draft of a scrapped risk analysis report.
The state had originally commissioned a firm named Det Norske Veritas, Inc. to conduct the risk analysis following growing concerns about the aging pipeline, as well as its operator, Canadian company Enbridge Energy. However, earlier this month it was revealed that an employee who had worked on the risk analysis later worked on another project for Enbridge —
a violation of the contract's conflict of interest prohibitions
— and the contract was terminated on June 21.
According to the statement, the authors of the draft report concluded that Line 5 — in operation since 1953 — could operate indefinitely. The statement says Schuette "strongly disagrees" with this conclusion, calling for a "specific and definite timetable" that would use "science, available technology, and common sense" to plan for the decommission the pipeline.
"The safety and security of our Great Lakes is etched in the DNA of every Michigan resident, and the final decision on Line 5 needs to include a discussion with those that rely on propane for heating their homes, and depend on the pipeline for employment," Schuette said in a statement. "One thing is certain: the next steps we take should be for the long term protection of the Great Lakes."
Among other things, Schuette's statement calls for a plan that would continue to bring propane to Upper Peninsula residents, a legislative ban on heavy crude and tar sands being transported through the straits, a call to maintain energy jobs provided by the pipeline, and to create a pipeline authority that would ultimately be responsible for decommissioning Line 5. The statement also proposes an underground tunnel as an alternative to Line 5.
The statement comes during the final public comment meeting for Enbridge's permit application for Line 5. "Oil pipelines do not belong in the Great Lakes. This pipeline is more than six decades old and runs a constant risk of failure," said David Holtz, chair of Sierra Club Michigan Chapter, following the meeting."We can't allow Enbridge Energy to prolong the danger of a Straits oil spill, and we need Attorney General Schuette to act on behalf of Michigan families, not Big Oil companies."