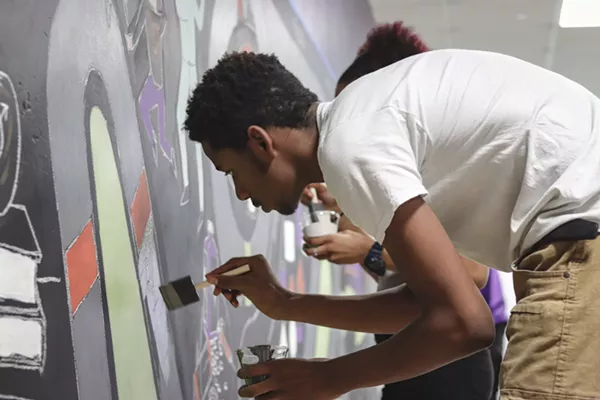 The Heidelberg Project has begun offering art classes at several Detroit public and charter schools, including some that currently offer no arts programming.
The
Heidelberg Arts Leadership Academy
, or HALA, uses art to "empower and inspire students to be change agents," a media release announcing the program says. It's currently being piloted with kids in grades 4 through 12 at Martin Luther King High School, Southeastern High School, Marcus Garvey Academy, and Cesar Chavez Academy East.
"The Heidelberg Arts Leadership Academy is one way that we are investing in kids and in Detroit's future," Heidelberg Project President and CEO Jenenne Whitfield says in the release. "This program fills a critical need in Detroit schools that have seen a significant reduction or complete elimination of arts education funding."
HALA is the only form of arts education for students at Southeastern High School and Marcus Garvey Academy, program coordinators say. At Southeastern, teens are painting a mural that depicts some of the problems in their community, like police brutality and drugs. They also appear to be painting images of planned-for achievements, with figures in caps and gowns denoting an upcoming graduation.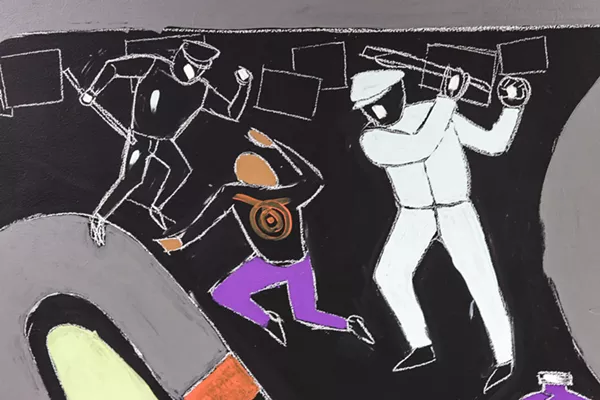 "The importance of arts education is paramount to the development of the whole child," assistant principal Alan Washington says. "The Heidelberg Project is an iconic Detroit community arts organization and the partnership with Southeastern high school will allow our students to appreciate the history, significance, and richness of the arts in the city."
The nine-week program was conceived by three women from the classroom education, curriculum design, and arts advocacy spheres. A Heidelberg Project spokesman says the women, from different parts of the country, were all gathered in Detroit last summer when the idea came to them. The following day, they stopped by the Heidelberg Project, where they pitched creator Tyree Guyton.
He and Whitfield were receptive, and now the women all live in Detroit and administer the program with funding provided by the Heidelberg Project.
Classes include Art Through Hip-Hop, where students use album covers to explore art as a tool for social change and artistic expression; Art Speaks, a mural project in which students collaborate with a local muralist to create a school-based mural that highlights an issue in their neighborhood; and Writes of Passage, where students report and write about social change within their community to create a zine of photos, poems, short stories, and drawings.
As of last school year, about half of the schools in the Detroit Public Schools Community District reportedly offered
no formal music or art programming
. A report by Chalkbeat's Erin Einhorn says arts programs were slashed following the recession, when the district was under the control of state-appointed emergency managers. Now that Detroit public schools are back under local control, Einhorn reports the district is trying to resurrect some of that programming. Last year, it devoted $500,000 to the hiring of 15 teachers who were to create arts and music programs in more than 30 schools this academic year.
The Heidelberg Project's extension into the classroom comes as the art installation-turned-community organization embarks on
"Heidelberg 3.0,"
which envisions a greater role for the organization in community building. Renovations are currently underway to convert the "Numbers House" on Heidelberg Street into a home base for an artist-in-residence program, a studio and gallery for emerging artists, and an education and event space for neighborhood events and youth programming.
Stay on top of Detroit news and views. Sign up for our weekly issue newsletter delivered each Wednesday.