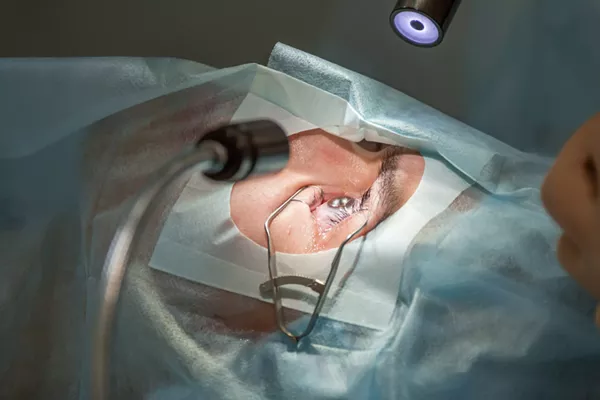 News of the suicide of Fox 2 Detroit meteorologist Jessica Starr has added to an ongoing conversation about the risks of Lasik eye surgery.

In June, The New York Times reported on documented cases of painful side effects and vision anomalies resulting from laser vision correction surgery. In some rare cases, the chronic pain and blurred vision experienced by patients after the procedure was so great that it had driven them to suicide.

The report came just six months before Starr, 35, took her life after openly struggling with dry eye and pain resulting from a Lasik SMILE procedure she received in October, which kept her from returning to work.

While Starr's Lasik SMILE complications have not been officially confirmed as a factor in her suicide, her struggle with recovery was documented on Facebook.

"Thank you for all the well wishes and wondering where I've been," Starr said in a video posted in November. "I am struggling a little bit so I need all those prayers and well wishes because this has been a hard go."

The NYT report details a similar experience with the struggle of Geobanni Ramirez, a graphic artist who, more than two years following a Lasik procedure, continues to experience extreme light sensitivity, triple vision, visual distortions, and severe dry eye — the price of getting 20/20 vision.

"My vision is considered 20/20, because I see the A's, B's, and C's all the way down the chart," he told the paper in June. "But I see three A's, three B's, three C's."

Ramirez told the NYT that following the procedure, he has to put drops in his eyes twice an hour and often feels a burning pain he compares to that experienced while chopping onions.

Since the Food and Drug Administration green-lighted laser corrective procedures in the '90s, more than 9.5 million American's have opted for laser corrective surgery in lieu of wearing glasses or contact lenses.

The procedure Starr elected to do, however, is fairly new. Approved by the FDA in 2016, Lasik SMILE (or small incision lenticule extraction) is marketed as a less-invasive corrective surgery and is aimed at those with mild nearsightedness. Both Lasik and SMILE reshape the eye's cornea. During SMILE, two small cuts are made to remove a lenticule (a tiny lens-shaped tissue). Lasik, also a two-step procedure, requires a large flap-like incision which is then repositioned.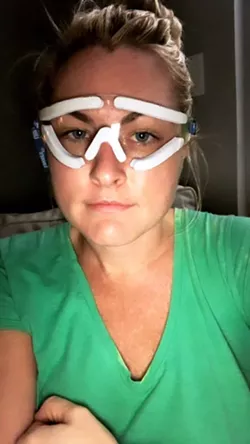 Controversy regarding
Lasik goes as far back as 2008
when dissatisfied Lasik patients pleaded before the FDA for more transparency in terms of the procedure's risks and long-term side effects, as well as to implement more strict eligibility requirements for interested candidates. At the time of the hearing, it was estimated that "fewer than 1 percent of patients" experience "severe complications" and "poor vision."
The
NYT
cites a 2017 study
which concludes that short-term symptoms in two clinical trial groups of patients were similar to those of Starr and Ramirez, and that their cases are not all that uncommon. While "a large portion" of patients reported improved astigmatism symptoms, nearly half developed symptoms like dry eye, or seeing double images, glare, halos, and starbursts.
The study concluded that Lasik patients should be monitored and surveyed to better inform the public of the procedure's well-documented dangers.
Another
NYT
subject, kindergarten teacher Katie Enders, described her post-Lasik dry eye as being comparable to feeling like having "paper cuts in her eyes."
Dr. Anat Galor, an associate professor of clinical ophthalmology at Bascom Palmer Eye Institute in Miami, found that 20-55 percent of patients have claimed to experience dry eye "at least six months after surgery."
She told the
NYT
that with all surgery, nerves are damaged in the process. "It doesn't matter if it's breast surgery or eye surgery," she said. "We have sensory nerves all over our body, and the cornea is one of the most heavily innervated organs in the body, so it is a little more sensitive to nerve damage."
In
a video
posted to Facebook in November, Starr asked Fox 2 viewers for tips on how to manage her recovery, as well as updated her fans on her Halloween with her two children.
"My vision is getting there," she said. "I have a tad side of
dry
eye, so I have to use a lot of drops. When the drops are in, I can see
clear
but then they fade pretty quickly."
"I just want to get my vision back 100 percent so that I can keep you guys smiling," she said.
If you or someone you know is in need of help, call the National Suicide Prevention Lifeline (1-800-273-8255 or text 741-741) which provides free and confidential emotional support 24/7.
Stay on top of Detroit news and views. Sign up for our weekly issue newsletter delivered each Wednesday.