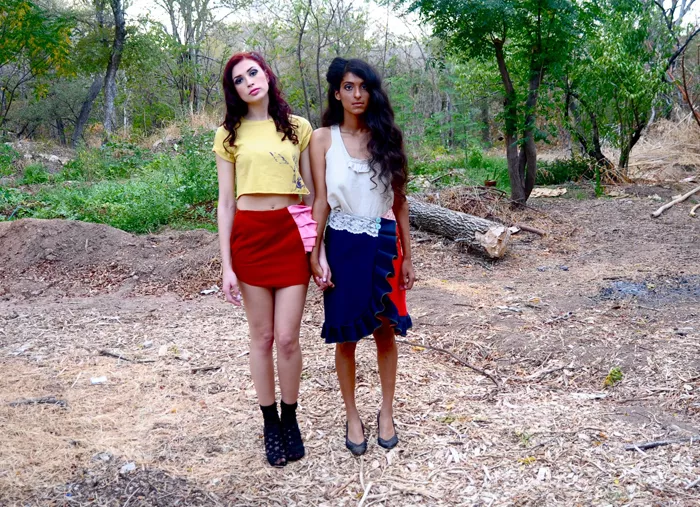 Last year, Jeannette "Nettie" Tiso packed up her thriving Cloth & Ink shop in Austin, Texas, said farewell to her loyal friends and customers, and set off to restart her life in the place where it all began. Raised in Novi, this designer believes that Detroit is the land of second chances.
Before returning to Michigan, Tiso operated a screen printing business out of a hip custom-built retail trailer on Austin's east side. Despite her success providing apparel to restaurants, bars, bands, farms and more, there was something missing. She wasn't doing what she loved.
"Once I stripped away all the stressors and things that weren't fitting right in my life, and came back and refocused myself here, I've been creating these things I never thought I could," Tiso says. "I mean, I surprise myself now with the stuff I make."
So she shut everything down, closed the shop, and landed in metro Detroit, where she's currently re-launching her brand. A confessed addict to change, Tiso has been to New York and Texas over the years, but she feels that Detroit brings her closer than ever to the design path she always wanted.
"2013 … I call it the worst year ever because I figured a lot of things out the hard way," she admits. "I was living in Austin. I love that city, but I had a screen printing business there. Screen printing was what I did to support the design business, but in reality I never had time for design."
At 27, Tiso is a graduate of New York City's Fashion Institute of Technology, where she studied fashion design and arts management. On the website of her relaunched brand, Tiso emphasizes apparel that lasts, embodying a cross between utilitarian, practical clothing and sartorial innovation with a futuristic twist. "There's this idea I'm toying with, which is to make a 10-year guarantee on the item, and you can ship it back and get it altered or fixed if something is wrong with it instead of people throwing out clothes," she explains.
Tiso says her family background and everyday life are factors that heavily influence her clothing. Coming from a family of seamstresses and engineers, she had a good head start in understanding design. From making her own clothing as a child to organizing student-run fashion shows in high school, fashion and ingenuity have always been dominant forces in her life.
Now she hopes to get her online designs on the racks of local stores in the Detroit area.
"I've always had this company, and it kind of just changes personality every couple of years," she says. "This one's mature, and I'm really trying to seriously go after this and make it a career."
More information about her tailor-made pieces can be found online at shoptiso.com.