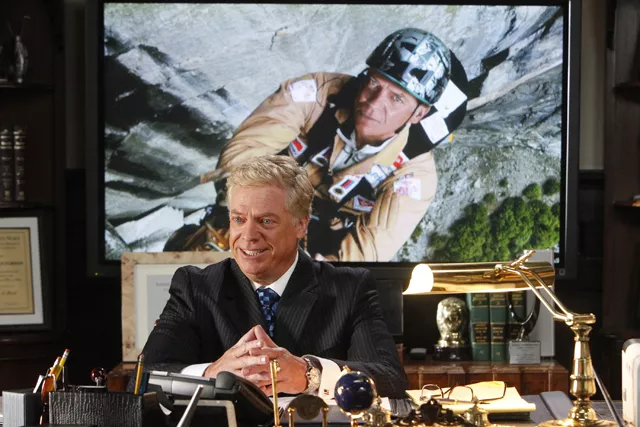 Since the dawn of recorded TV time — that is, the days of I Love Lucy and The Steve Allen Show — quirky, kooky, distinctive characters have propelled successful prime-time series.
While Vivian Vance still is regarded as one of history's greatest second bananas and William Frawley cracked his share of wise as Fred Mertz, Lucille Ball was most often her own best foil, placing herself in outrageous costumes and entanglements. Allen, founding host of The Tonight Show whose monumental contributions to television sadly are fading into history, assembled a legendary band of lunatics to assist him when NBC ordered him to overtake The Ed Sullivan Show in the '50s, including a hyper-jittery, pre-Barney Fife Don Knotts, Louis Nye ("Hi-ho, Steverino!") and America's first famous "Hispanic" comedian, Bill Dana as Jose Jimenez.
Often the breakout character doesn't emerge until the show is on the air and the writers find their legs. Happy Days was a watery replica of American Graffiti until Henry Winkler became "The Fonz" and the show skyrocketed. Family Matters required Urkel to flourish, Cheers needed "NORRM!" Seinfeld would have been a solid but hardly historic sitcom without Kramer, and How I Met Your Mother might have been a one-season washout if producers hadn't encouraged Neil Patrick Harris' Barney to become ... well, Barney.
The interesting trend in recent years is that the oddball supporting character is providing a boost to TV dramas as well as comedies, spotlighting actors you can't wait to see enter the screen and miss the moment they depart. What would America's top-rated scripted series, NCIS, be without Pauley Perrette's Abby, or Criminal Minds without Kirsten Vangsness as Garcia? When it appeared White Collar had killed off the platitude-spouting Mozzie (Willie Garson) last year, fans of the show flooded chat rooms and USA Network message boards until producers were forced to admit his shooting wasn't intended to be as fatal as it looked.
If you've been watching court-TV wonderbrain David E. Kelley's latest creation, Harry's Law on NBC (10 p.m. Mondays, Channel 4 in Detroit) — and if not, why not? — you have experienced Idiot Boxing's choice for the most delightfully eccentric, oddly engaging bit player in this or many a previous TV season: Christopher McDonald as flamboyant defense attorney Tommy Jefferson.
Harry's Law would be worth watching if only for the magnificent Kathy Bates in her first starring TV role as ballsy, no-nonsense lawyer Harriet "Harry" Korn, and her surrounding cast (Nate Corddry, Brittany Snow, Aml Ameen) is more than serviceable. But the interactions are spiciest and the scenes most memorable when fast-talking, egocentric, comically insecure Tommy takes part.
McDonald, a familiar and welcome face in movies and television (and forever immortalized as the deliciously arrogant Shooter McGavin in Happy Gilmore), has managed to embody virtually every unctuous, teeth-whitened, snake-eyed lawyer with a daytime TV commercial. Does the bottle-blond Jefferson have an ego? Beyond calling Harry's eager associate Adam Branch (Corddry) a "bug" at every opportunity, blessed with the name of one of America's founding fathers to trade upon, he prefers to ennoble himself as "Tommy."
Wildly and grossly inappropriate, he balked at representing albinos because "I can't look at them; they turn my stomach." In one of his most hilarious moments, sitting in a hospital waiting room while a young black shooting victim is in surgery, he turns to Harry. "Like Elvis?" he asks, then launches into a spirited warbling of "In the Ghetto" as the patient's mother looks on in disbelief.
"David Kelley wrote this guy so full of himself," McDonald said by phone last week, "but you find out that it's a lot of braggadocio, and in later episodes you realize he's got a heart of gold, which is pretty cool. My mother saw the first episodes and said, 'Wow, there's nothing redeeming about that character at all!' I said, 'Mom, stay tuned!'"
McDonald said Tommy initially was intended to appear in only one or two episodes, but wound up in 11 out of 12 for the show's first season. "David loved the voice and he loved to write for it," he said, adding that the character of Tommy was created before producers had anyone in mind to play the part and McDonald lucked into the role. "They said, 'Who the hell is going to play this?' and someone mentioned my name. I'm extremely grateful, and love, love, love the character, so I'm hoping it goes on for another 10 seasons."
McDonald, who's also appearing in HBO's Boardwalk Empire and currently shooting the first movie from Sopranos creator David Chase, is on a career roll right now, and performing alongside Oscar winner Bates in a regular series is the cherry on his sundae. "Kathy Bates is so tough, so strong as an actor, she raises the bar just by her presence," he said. "She's a no-bullshit actor and I love that about her, and she's also very, very funny. She tolerates Tommy Jefferson, and I think in a lot of ways she tolerates Chris McDonald."

Networking: Chaos, premiering at 8 p.m. Friday on CBS (Channel 62), has the potential to become an enjoyable buddy-action comedy, with Eric Close (Without a Trace) leading a quartet of rogue CIA agents on their own clandestine missions. It's got a big-film look, the sardonic humor of M*A*S*H* and a bit of Office Space ladled in. But if CBS thinks the show has a chance, why exile it to Friday nights? On April Fool's, no less? ... You knew Turner Classic Movies would do it; now you know when. TCM honors the life and film career of Elizabeth Taylor, who died last Wednesday, with a 24-hour marathon Sunday, April 10. Taylor's two Oscar-winning performances, in Butterfield 8 and Who's Afraid of Virginia Woolf, will be featured back-to-back beginning at 8 p.m. See tcm.com for the complete schedule.