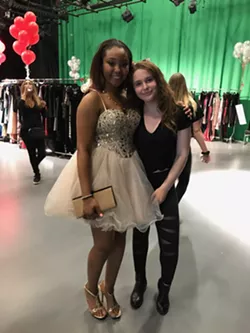 Prom can be one of the most memorable nights of a young woman's life — a chance to wear gorgeous formal attire and head-turning hair and makeup. But while the memories of prom are priceless, the costs of the going to prom can be pretty steep. According to a study by Visa, parents on average spend almost $1,000 on their teenagers for prom. While many would like to participate in such a special occasion, not everyone can afford it.
Enter
reWEARable
— a nonprofit organization dedicated to helping young women in metro Detroit celebrate the special night in style — without the hefty costs.
The organization has partnered with Detroit Public Schools Foundation for "Say Yes To The Dress," its 2nd annual prom dress giveaway, which takes place from 4 p.m. to 7:30 p.m. on Thursday, March 14 at the Golightly Career and Technical Center at 900 Dickerson Ave., Detroit. The first 200 girls at each event will receive a free dress, a pair of shoes, and accessories.
reWEARable
was founded by Danielle Lutz, a senior at Wylie E. Groves High School, after recognizing how young women desire to look their best on prom night, but not everyone can make that happen. After two years of collecting prom dresses for the Princess Project, an organization based in California, Lutz decided she wanted to help girls in her own community.
As Lutz prepares for college, she is making plans to ensure reWEARable's continued success. "Even when I go off to college, I still want to be involved to run [reWEARable]," she says. "There have been a lot of girls in the community who have taken a strong position with
reWEARable
, and hopefully I can create a small board of directors."
Say Yes To The Prom Dress is designed to be a celebratory event and provide attendees with a memorable shopping experience as the giveaway will have a red carpet, backdrop, light refreshments, and a special raffle. While the event is hosted by Detroit Public Schools Foundation, students from the metro Detroit area are welcomed to attend.
reWEARable
is also accepting donations for dresses and accessories, which can be dropped off at 300 S. Old Woodward Ave., Birmingham. They also have a
GoFundMe
page.
For more information, you can contact Lutz at
[email protected]
or visit
rewearabledetroit.net
.
Get our top picks for the best events in Detroit every Thursday morning. Sign up for our events newsletter.